How to discover China off the beaten track – what does it take to preserve Jewish identity if you are a Chinese Jew?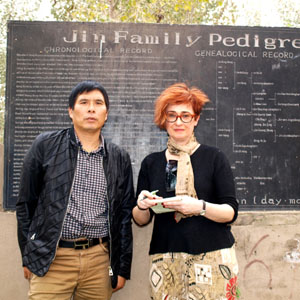 October 2012, Again – Kaifeng, China. We are at the oldest Jewish burial place in China – with Mr. Jin in front of his life-long project, his family memorial.
Our new friend dedicated his life savings and his entire life to create this marble memorial book which presents – engraved in English on one side and in Chinese on another – the 900-year story of Mr. Jin's family within the context of Chinese history. "Chronological" (narrative) and "Genealogical" (family tree) records, written there large and flamboyant, and in stone.  True to the Confucian culture of their country, Jin's family kept their genealogical records for many centuries. When the government confiscated records, a secretly made copy of it was securely hidden. And then – reborn as Mr. Jin's marble monument to his ancestors and to the eternal Jewish spirit.