Why travel the wine tasting path when in Santa Barbara?
No visit to California is complete without a wine tasting tour. Everyone knows that the Napa and Sonoma Valleys in California are synonymous with internationally famous great wine. But we were sure that the Santa Barbara environs were emerging as a renowned wine region as well. Why?
Because, California used to be a Spanish territory with the Mission system as a foundation of the institutional power. Well, we thought that the pious monks in Santa Barbara could not imagine life without wine. They were Spaniards after all, weren't they? So, this was the historical root of our decision to explore the local wine making!
Choosing Santa Barbara Adventure Company
I chose Santa Barbara Adventure Company as an organizer of our wine tasting tour. We wanted our experience to be an adventure. And so, we were looking for a journey of discovery: the history, the landscapes, the wineries, and of course the orchestration of wine tasting. It turned out that we made the best choice! I spoke with Will Adams, the Company's Marketing Manager; Ken McAlpine, their Nature Specialist and Guide for the Channel Island National Park; Kimberly; and other staff members. Then, I knew I chose the best professionals!
Everyone I communicated with was very sensitive to our needs, wants, and objectives as travel writers and photographers. In other words, the Adventure Company was ready to organize and assist with everything we wanted to see during our short time in that "American Riviera." From photographing the foxes of Santa Cruz Island to understanding the wines of Santa Ynez Valley, our hosts accommodated us completely.
Learning from our guide about Santa Ynez wine country
The organization of our day-long wine-tasting tour was perfectly planned and executed. Our guide par-excellence Kyle picked us up in a small minivan for eight passengers. Everyone was required to wear a face mask. We learned from Kyle that most of Santa Ynez's wineries were established in the 1970s. In 1983, Santa Ynez Valley was recognized as the AVA or American Viticultural Area (wine-growing region).
Kyle also talked about the uniqueness of the Santa Ynez Valley and its excellent climate for wine-producing. The Valley is oriented from east to west. The Santa Ynez Mountains are north of the valley, and the San Rafael Mountains are in the south. Similar to the valley's orientation, the Santa Ynez River runs east to west to pour its water into the Pacific Ocean. The Ocean creates a cool fog that moves into the valley every night. That fog plays an important role in growing perfect grapes.
One of the brochures mentioned that 65 different varieties of grapes grow on 16,000 acres of vineyards. From these grapes, the winemakers produce Chardonnay, Syrah, and Pinot Noir, which are already popular both nationally and internationally. In addition, the wineries produce Bordeaux, Rose, and even German, Spanish, and Italian-style wines. All in all, over 120 Santa Ynez Valley wineries produce over a million cases a year. "Can we visit all 120 wineries today?" someone in the van joked. Anyway, we all knew we were up for a wonderful learning and tasting adventure.
Kyle took us to three wineries. All were small, family-owned boutique operations. All three wineries focused on sustainability and preservation of natural resources. Each had a continuously growing, dedicated following of wine connoisseurs. These customers, called the club members, are not just wine aficionados, but aficionados of a specific winery they belong to!
The Roblar – our first winery
The first of these elite boutique wineries we visited was called the Roblar ("oak" in Spanish). In a beautiful garden setting, each couple was led to a separate table six feet away from another. We enjoyed four different wines, two white and two red. Among the whites, our favorite was the 2020 Cuvee Blanc, very dry and full of flavors. It seemed to smell of citrus, peach, and flowers but tasted like a green apple with honeydew melon. But the overall winner for Alex and me was their Pinot Noir!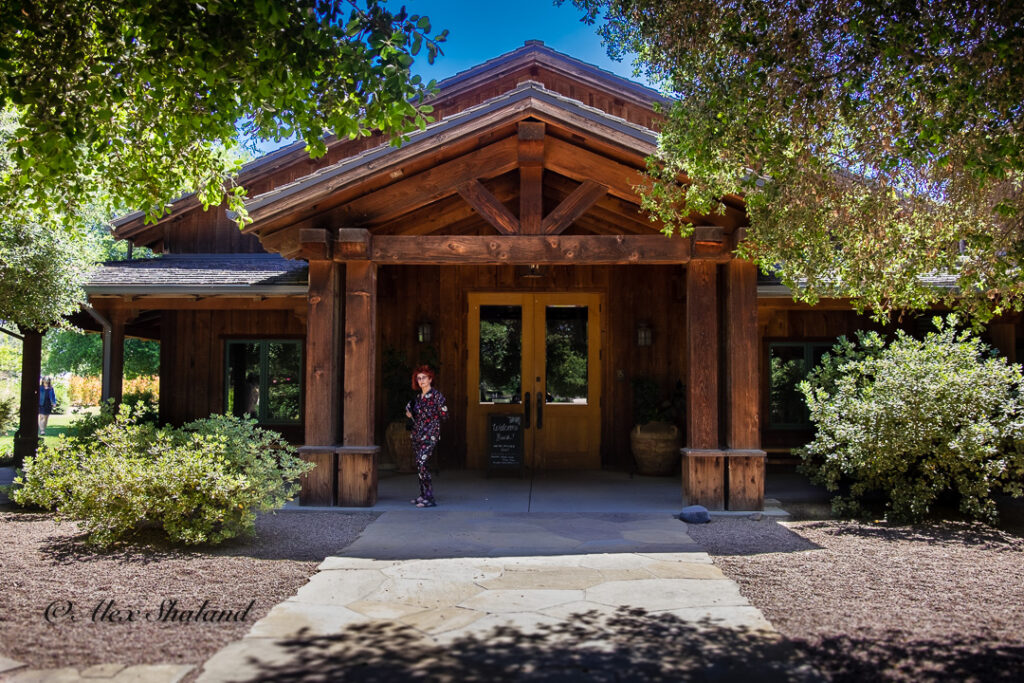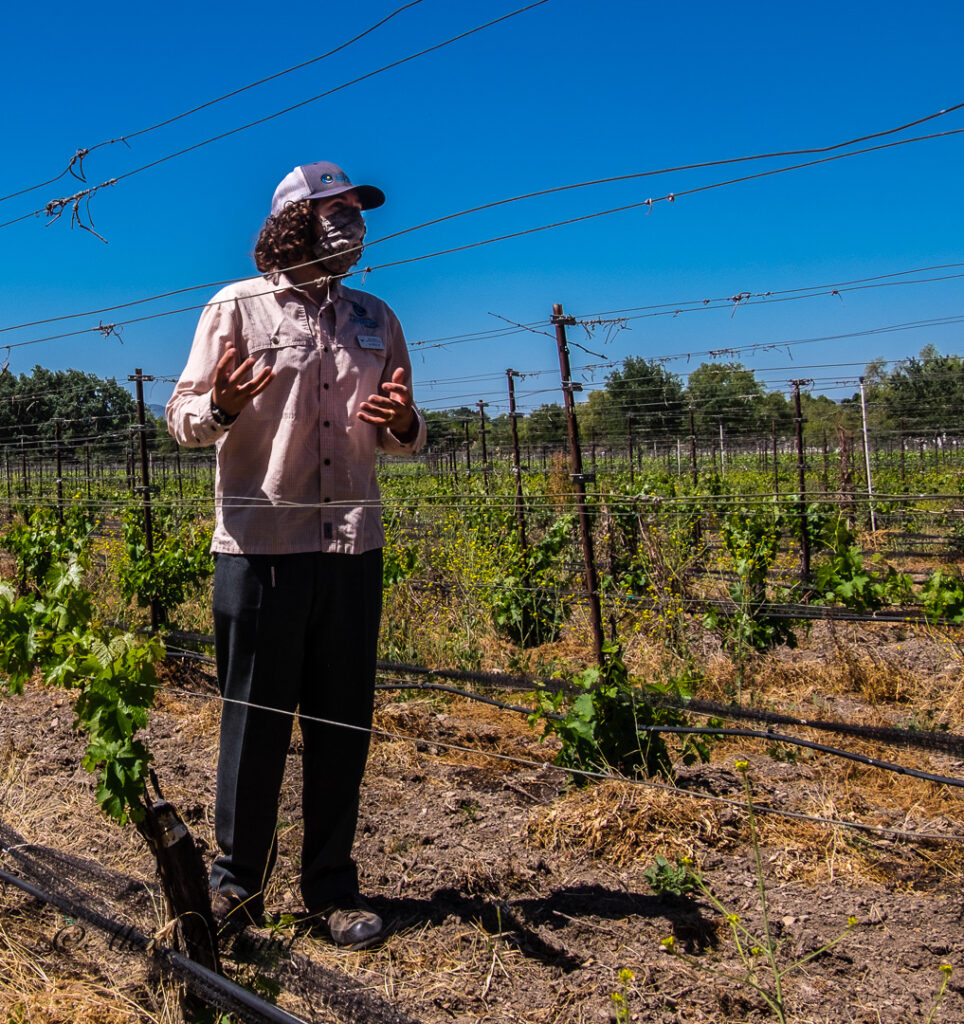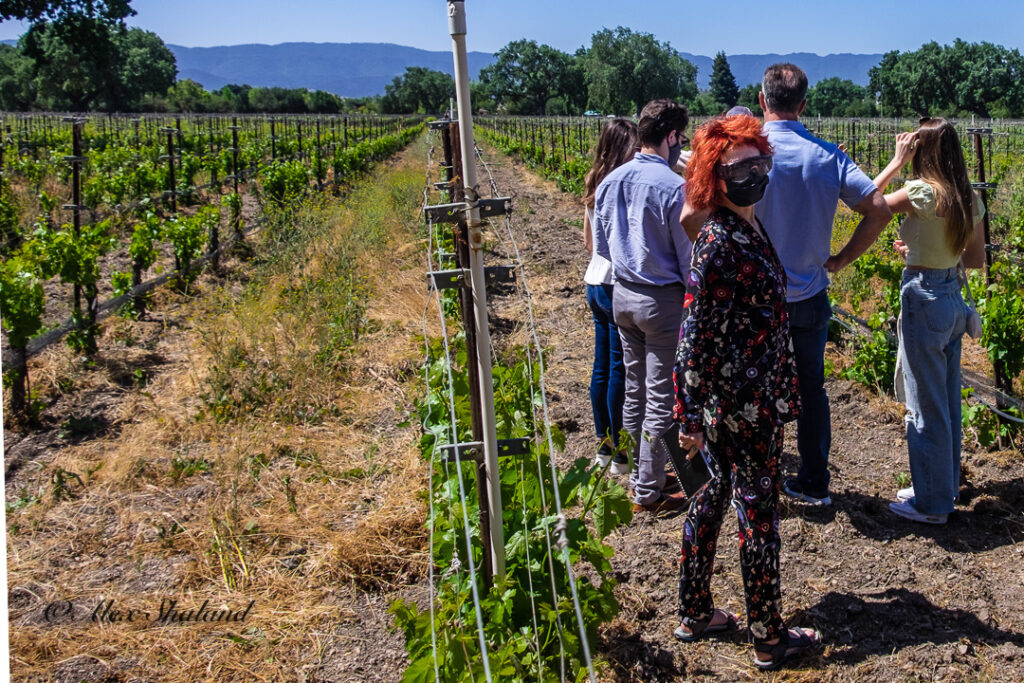 The actor and the wine: Fess Parker and his Winery and Vineyard
Our next stop was the Fess Parker Winery and Vineyard. All cinephiles will immediately recognize the name of the famous actor Fess Parker. In the 1950s and 1960s, he created the characters of heroically brave frontiersmen Davy Crockett and Daniel Boone. Fess Parker is still venerated by multi-generational "oldies" aficionados.
We learned from Kyle that in the 1970s, Parker left the movie industry and went first into the real estate business and then, in the 1980s, into wine-making. The famous actor passed away in 2010, but his immediate family still owns and operates the wineries. We were going to visit Parker's 714-acre ranch where over forty years ago he decided to grow the highest quality grapes and produce the best wines in the country!
Visiting the Fess Parker Winery and Vineyard
The ranch turned out to be a gorgeous park. Each couple or family had a table separate from the other guests and placed in the luxury of elegant comfy alcoves furnished with colorful loveseats. In addition to four types of wine, two whites, two reds, we had a glass of wonderful sparkling Rose called Empathy. I thought this was the best Rose I ever tasted.
Riesling is normally not one of our preferred wines, but the one we tried at the Fess Parker was very dry, not sweet, and we liked it a lot. Alex especially enjoyed their Chardonnay with its delightful taste of lemon, nectarine, almonds, and even white pepper! My favorite was their Pinot Noir, which I thought was rich and velvety, reminding me of cherries and strawberries.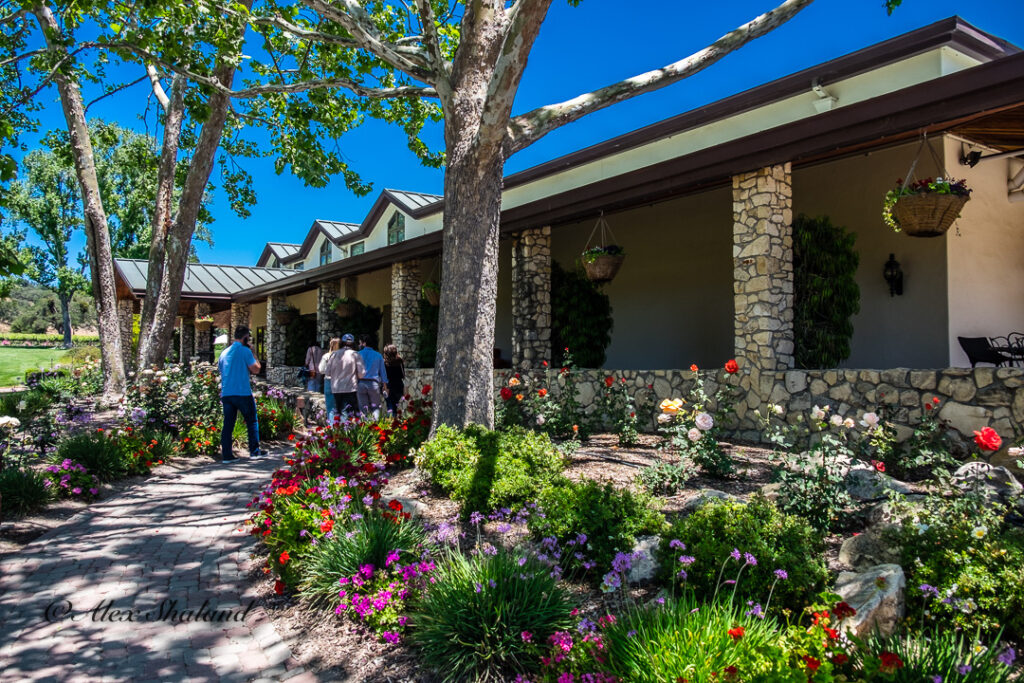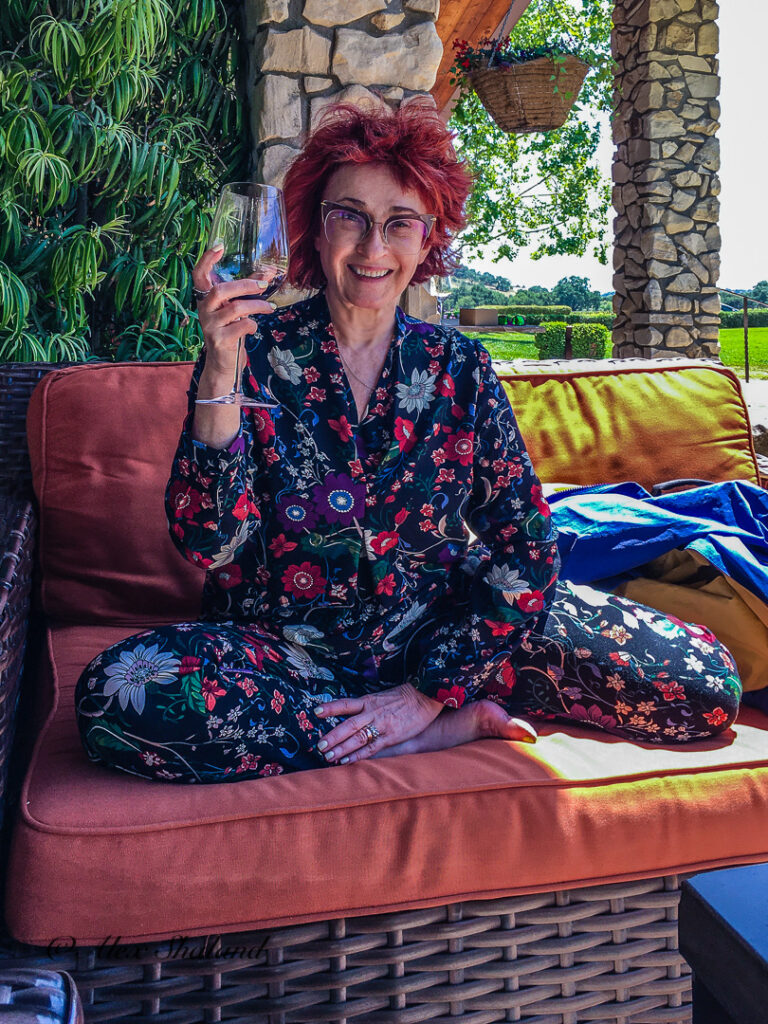 The Brander Vineyard – an international story
The third and last winery on our tour was the Brander Vineyard owned by Fred Brander and his family. Upon arrival, I noticed three flags on the roof of the large stone mansion: Swedish, American, and Argentinean. As we found out, the flags told the family story through three generations.
The grandfather of the current owner Fred emigrated from Sweden to Argentina. Fred's father Eric was born in Argentina, married a girl from the United States, and brought her to Argentina to start a family there. Finally, the family now consisting of Fred, his wife, and children came to the U.S. In 1962, they settled in Santa Barbara, California.
When the Branders founded their winery in 1975, they became one of the pioneers in the wine-making industry in Santa Barbara county. Then, the family decided to focus on what they called the "classically styled" or "Bordeaux-influenced" wines, primarily Cabernet Sauvignon and Sauvignon Blanc.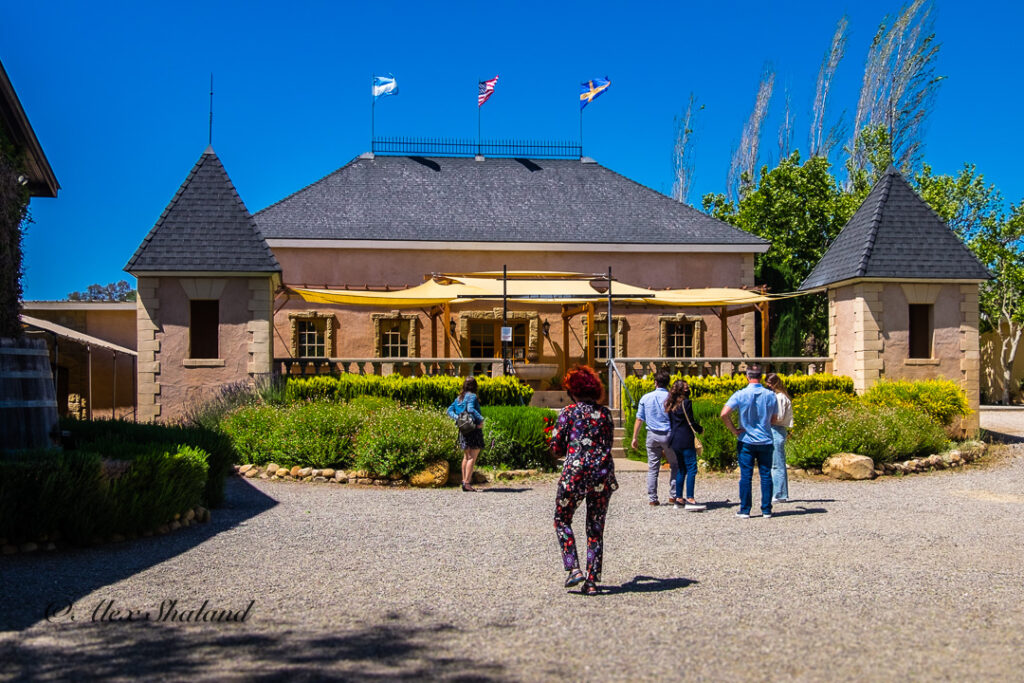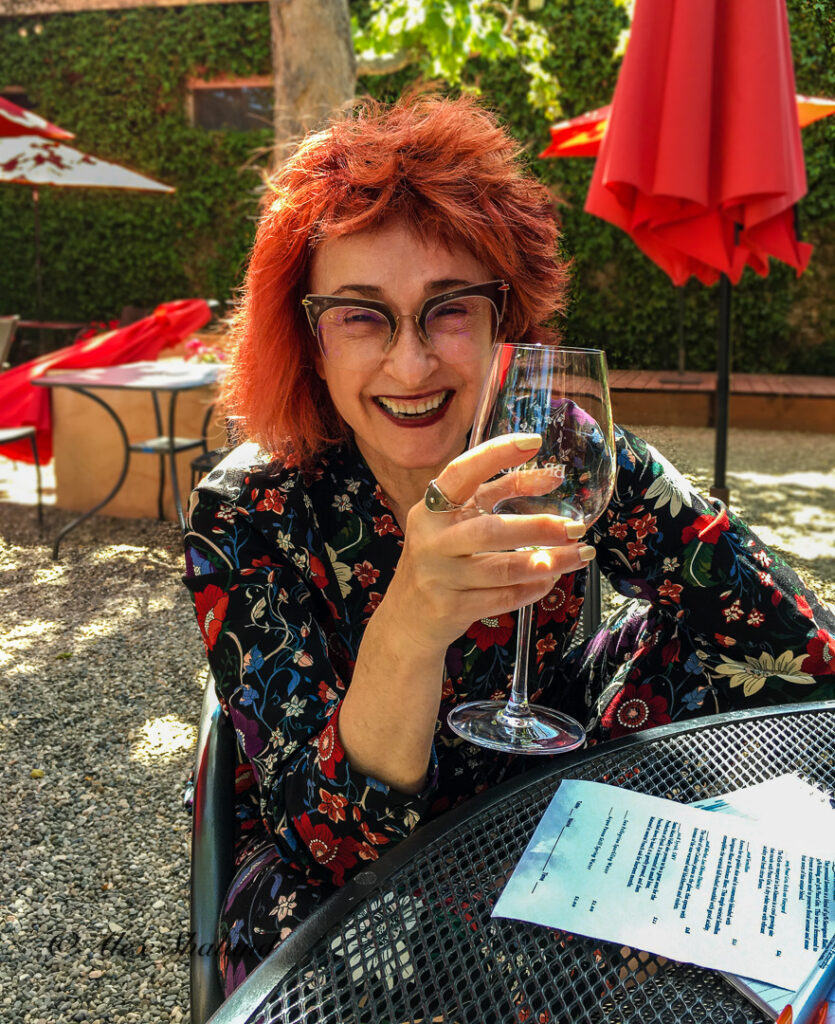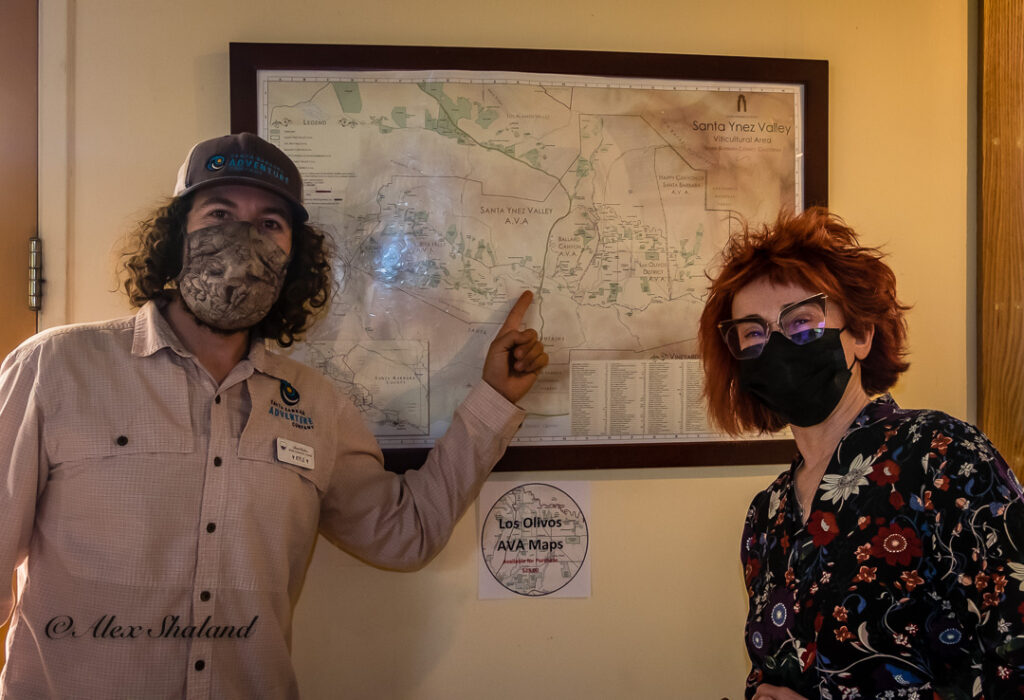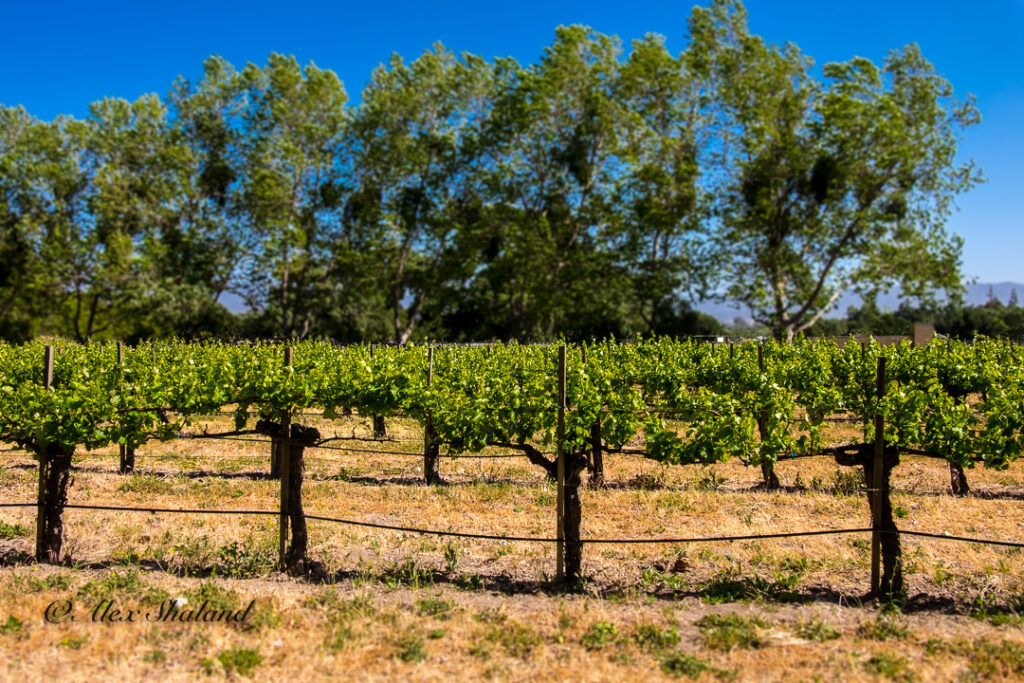 Biodynamic farming principles
Our host at the winery explained to us that the family is proud of their utilization of biodynamic farming principles. We learned that the term bio dynamics means creating a self-sustaining environment while respecting the natural aspects of the land. That involves planting drought-tolerant shrubs and trees native to the area and attracting insects (such as ladybugs) beneficial to the vineyard.
The wines we tasted were very impressive. The 2018 Cuvee Natalie was a proprietary blend of Sauvignon Blanc, Riesling, and Pinot Gris. I usually do not like Merlot, but there it was wonderful: light in color and with an aroma of blackberries.
Gratitude to organizers
Thank you, Kyle and the Santa Barbara Adventure Company for the wonderful adventure! Just like in wine making, you created a perfect blend of storytelling and scenery, history, and wine-tasting!
Read Part 1 of three-article series titled What to do in Santa Barbara California
Find out more about the author and the photographer.
Enjoy photos from our other trips on Instagram.
santa barbara, santa barbara things to do, santa barbara california, wineries, wine tasting, best wineries, wine tours, santa barbara wine tasting, wine tasting santa barbara, pinot noir taste, best tasting wine.