"Whenever you are in Santa Barbara and whoever you are with, you will be thinking one thing over and over again: Life is good!"
I do not recall who said or wrote the phrase above or how I came across it, but it stuck in my mind. When our travel plans to foreign countries had to be canceled one after another during the pandemic, that same sentence kept reappearing in my thoughts. And so it happened that we went "domestic" in our travel plans, and in May of 2021, we arrived in Santa Barbara, California.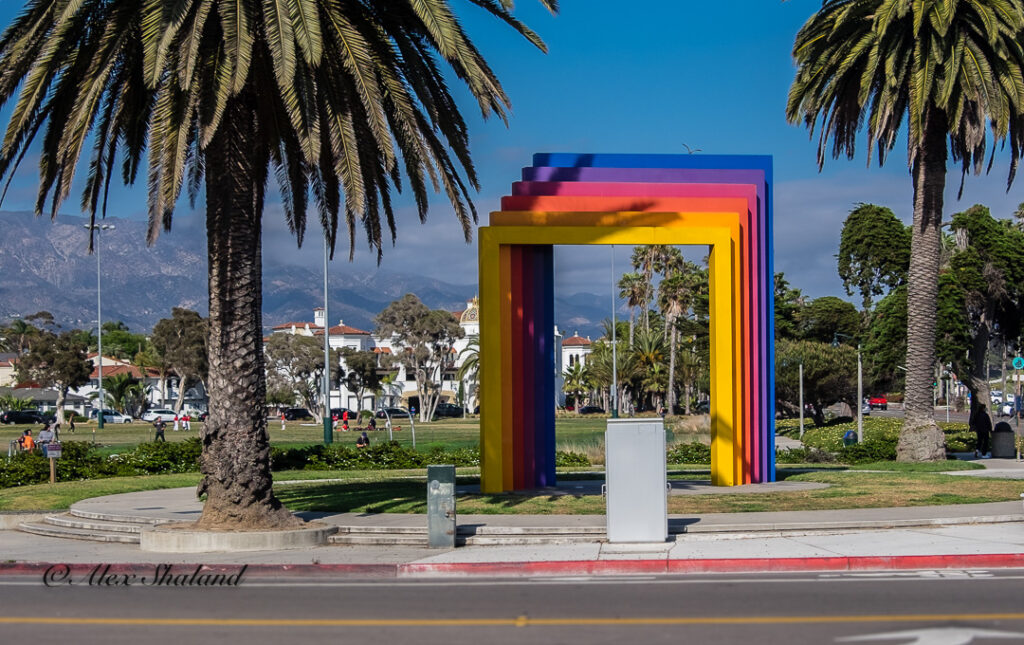 This pleasant little town is snuggled comfortably between the imposing Santa Ynez Mountains and the glittering Pacific Ocean. Santa Barbara is simultaneously artsy, chic, and casual, and is widely known as the "American Riviera." And indeed, that coastal town's red-tiled roofs, white stucco buildings, its omnipresent Spanish colonial heritage—all channel the Mediterranean atmosphere and European-like civility that immediately took us, in our imagination, across the Atlantic. Haven't we decided to go "domestic" or what?
Walking, hiking, or bicycling along the East Beach boardwalk
We stayed at the Hilton Beachfront Resort located on one of the best California beaches, the East Beach. And there we discovered that just walking or bicycling along that beach made us feel, if not exactly Santa Barbara's natives, but almost an integral part of their community. That boardwalk stretches for miles along the coast. And, just like we saw in Copacabana in Rio, the beach is treated by the locals as their living room, exercise studio, soccer field, in other words, a natural extension of their homes and a fundamental part of their lifestyles. People practice yoga and martial arts, roller-blade and skateboard, drive a strange hybrid of a bike and cabana, and eat and drink wine with their friends. In short, they live in their home away from home, the East Beach. A large number of homeless people seemed disturbing at first, but they too looked perfectly at ease laying on the beach's grass or sand.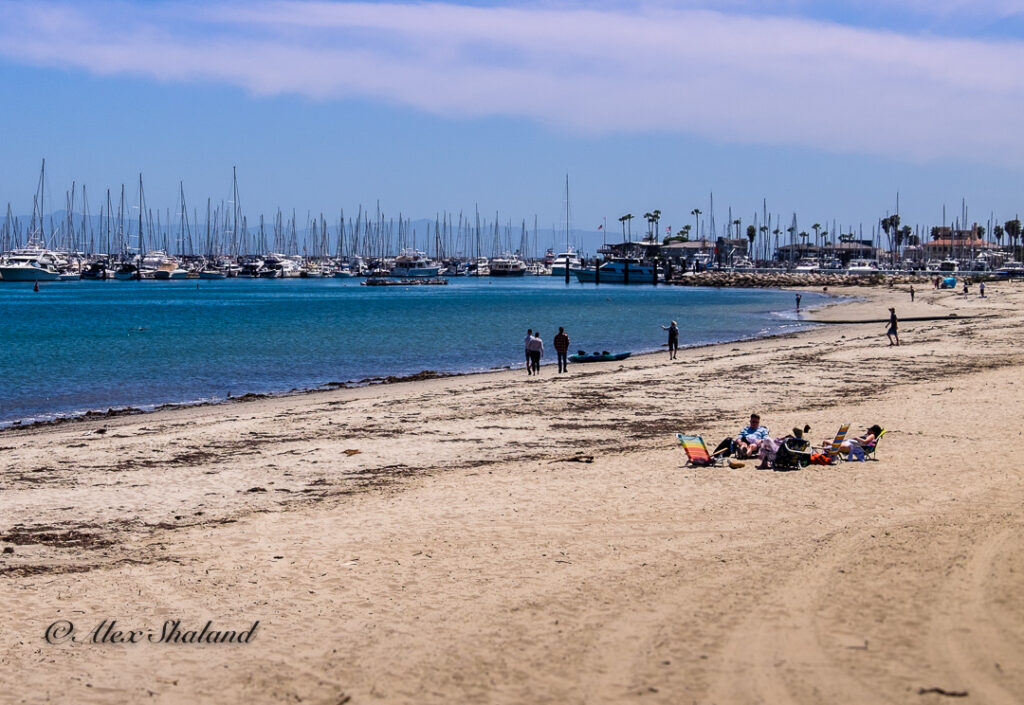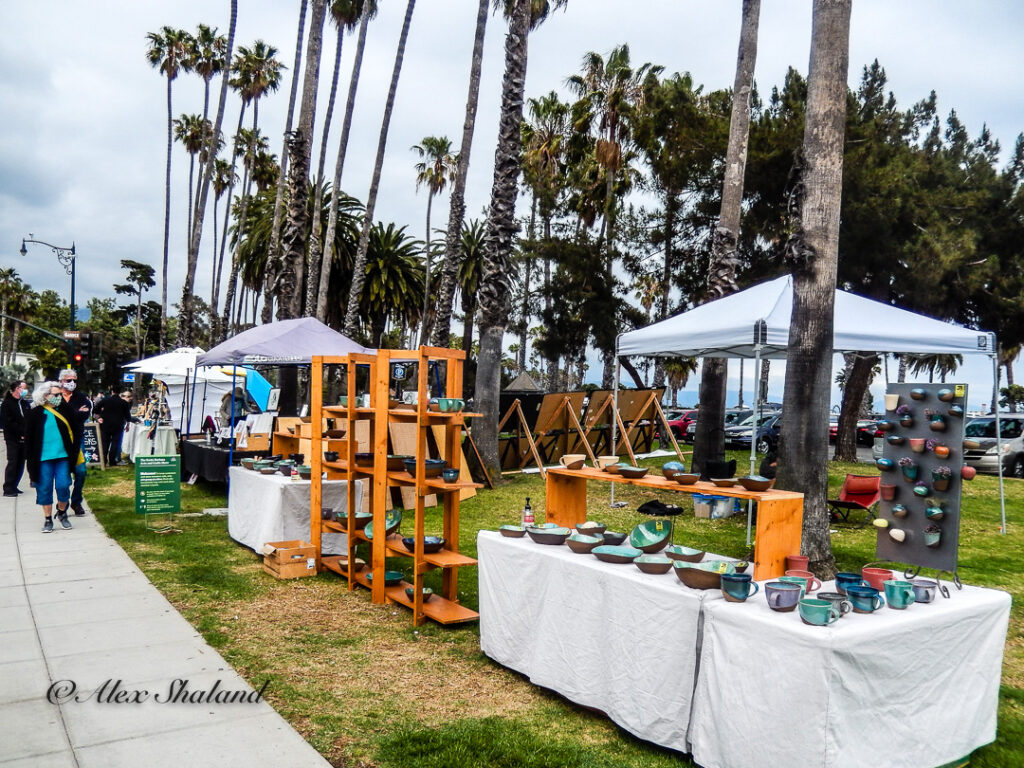 Enjoying State Street
We loved to stroll down the city's main street. Called State Street, it seemed to be designed down to the smallest details—from exotic potted plants to thorny and flowery ornamental vines covering walls and facades. Twinkling lights surround fun bars and fantastic places to eat, enticing boutiques and attention-grabbing art galleries.  Even at the time of pandemic restrictions, this grand dame of Santa Barbara streets, buzzing with people and activities, looked elegant and charming.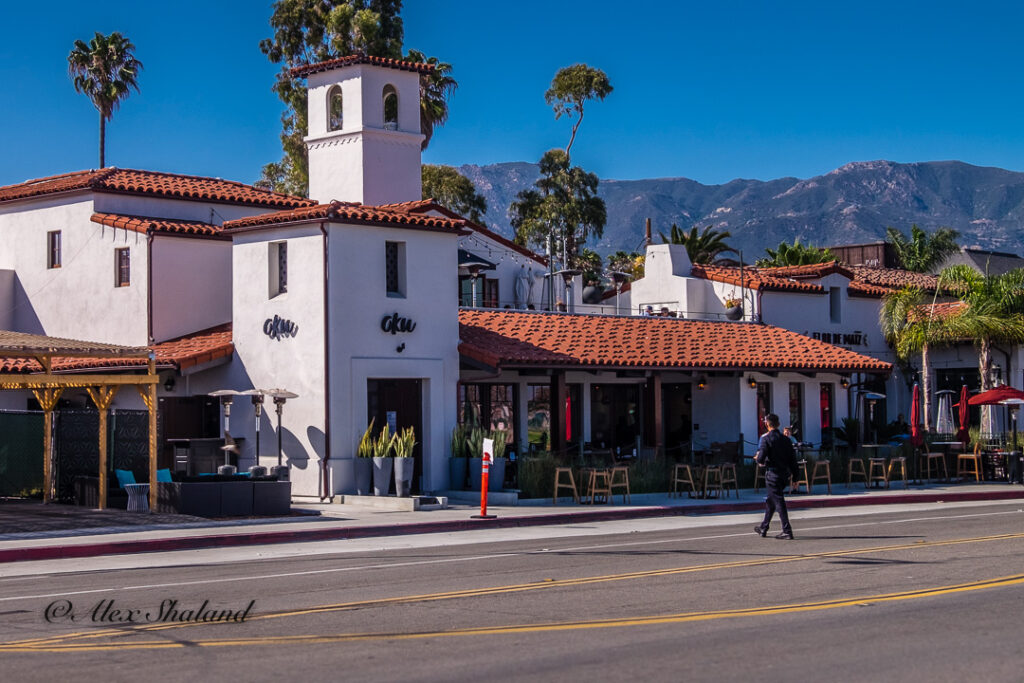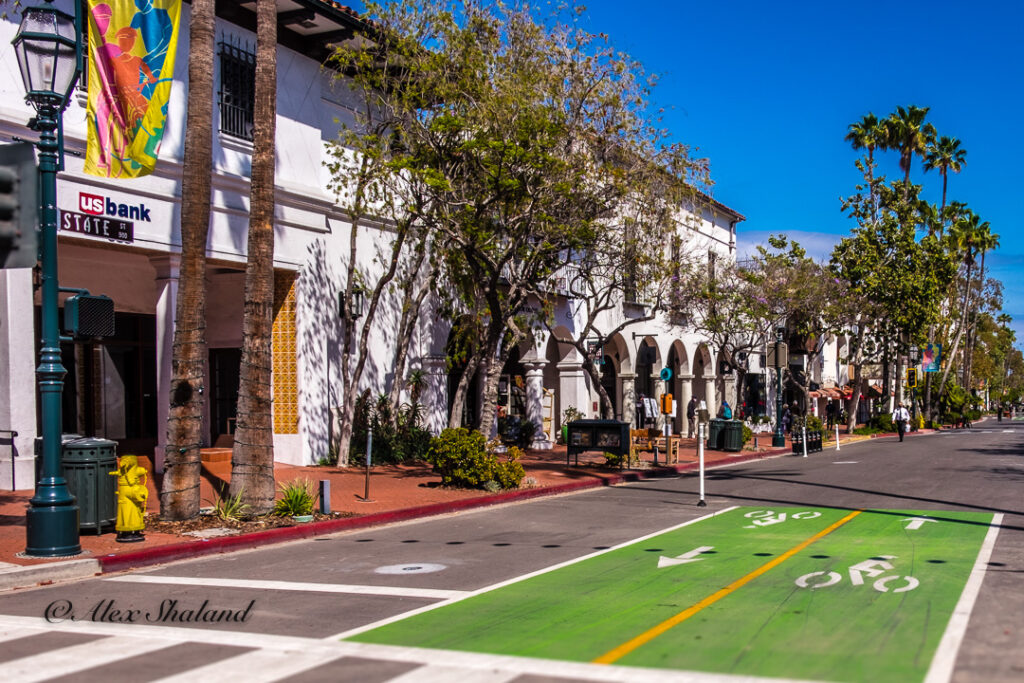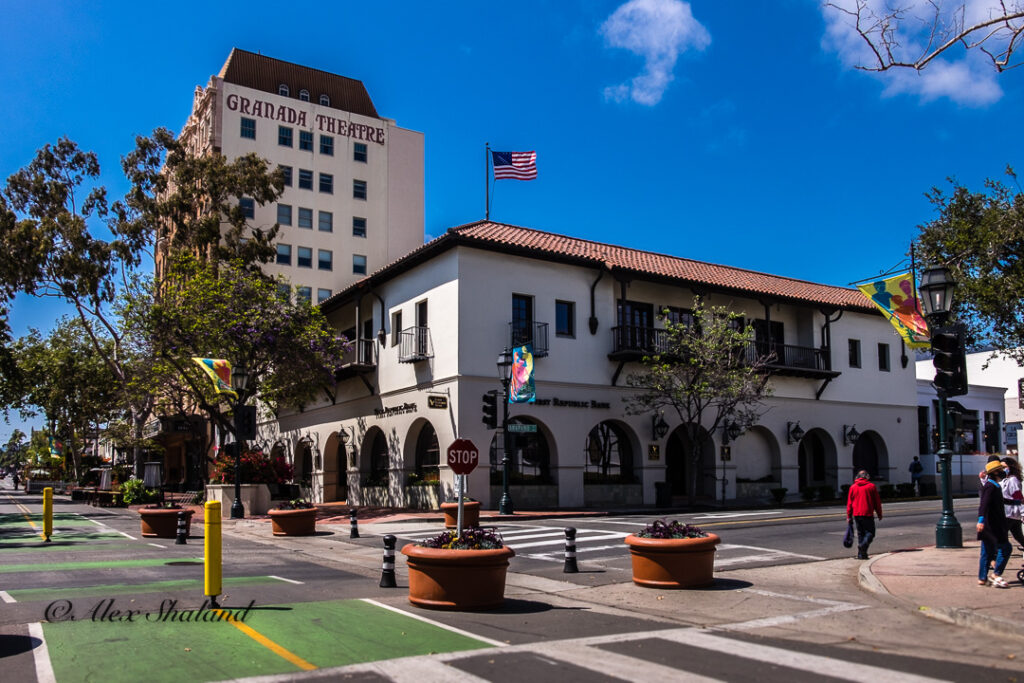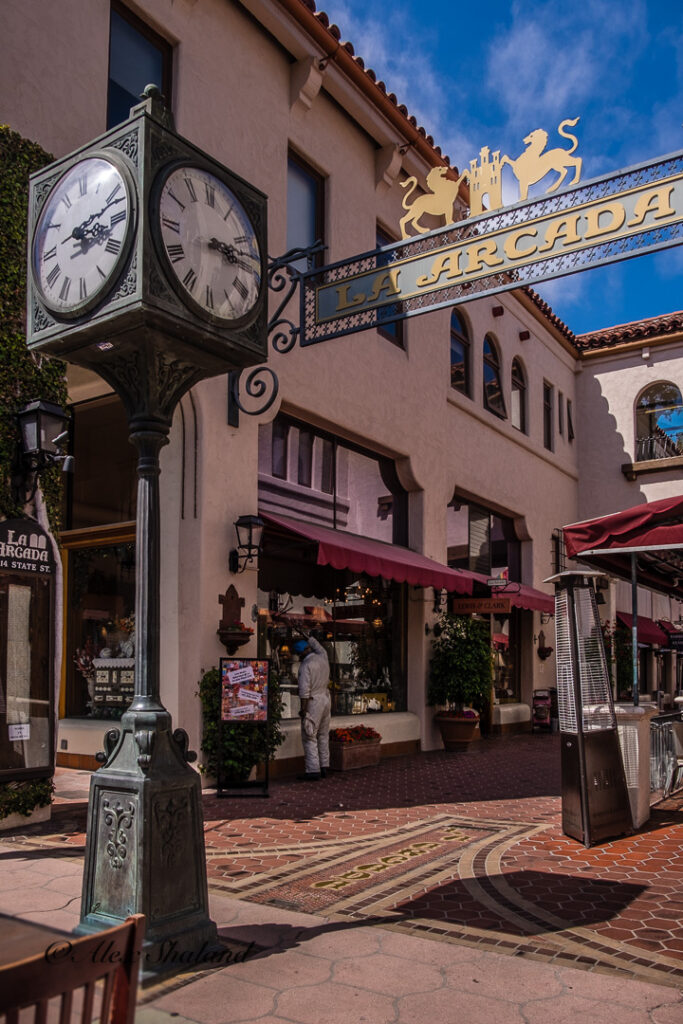 The Architecture
We fell in love with Santa Barbara's historic architecture. To us, it seemed both Mediterranean and Spanish: its deep-red colors contrasted with the white walls and polished wood textures. Santa Barbara's iconic architecture and its visual identity were largely derived from the rebuilding and reconstructions following the devastating earthquake of 1925 when the entire town was reborn in Spanish Revival style. The spirit of Spain is felt everywhere, pervasive and persuasive.
The Old Mission Santa Barbara founded in 1786 (the current exterior from the 1920s) is called "the Queen of California Missions." The amazing Santa Barbara Courthouse (1929) is known as "the most beautiful government building in the United States." Both places seem to us belonging to Spain rather than to the twenty-first century the United States. Unfortunately, due to the COVID-19 safety rules, visitors were not allowed inside the working courthouse. So we could not see the elaborate murals and ornate chandeliers and were not able to climb up the El Mirador, the famous clock tower for the panoramic view of Santa Barbara and environs.  Oh well… But we did go to its sunken garden and spent some enjoyable time there.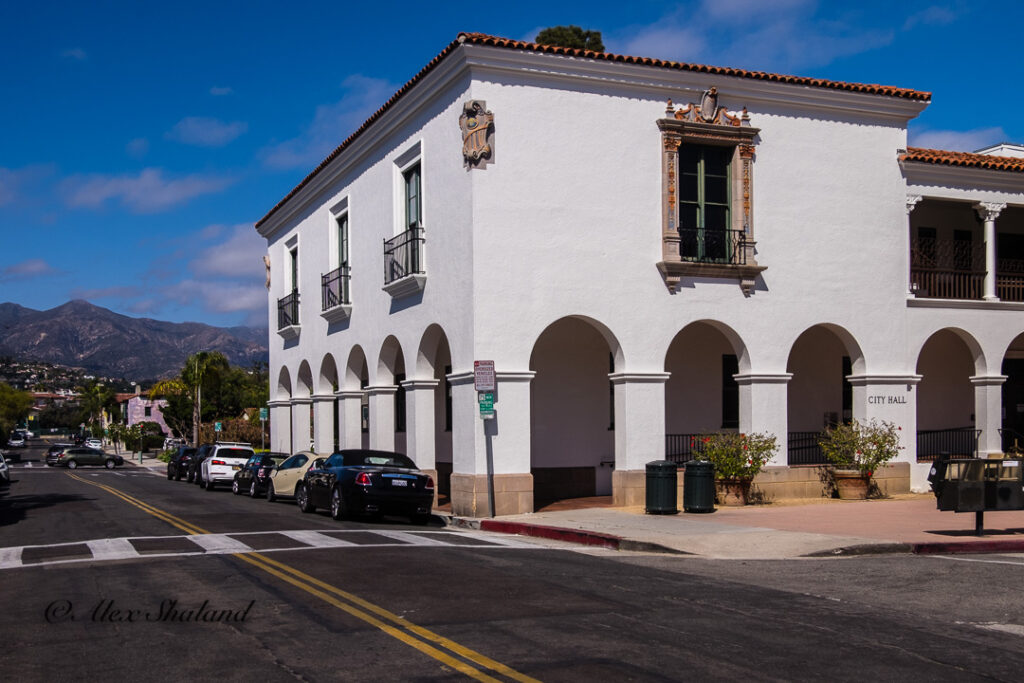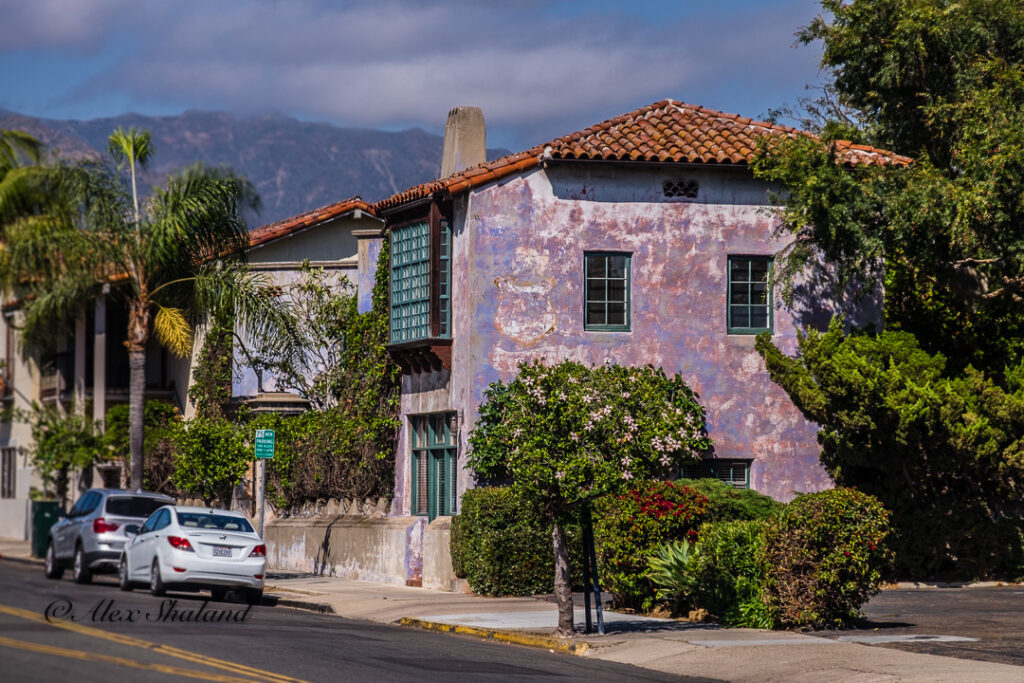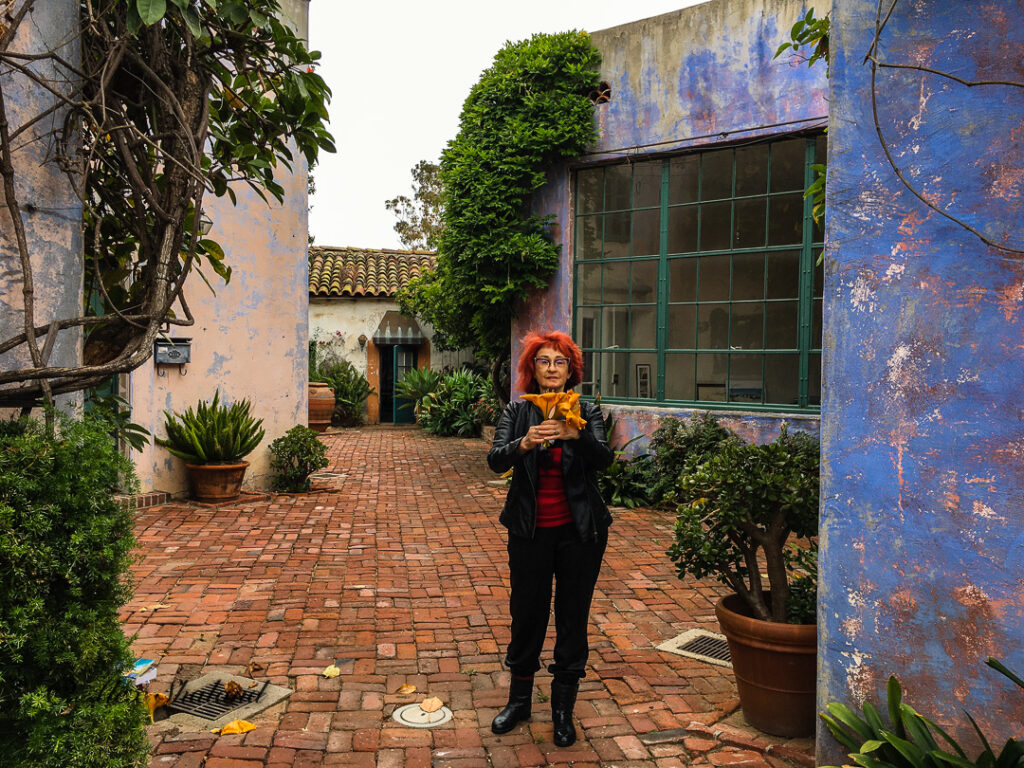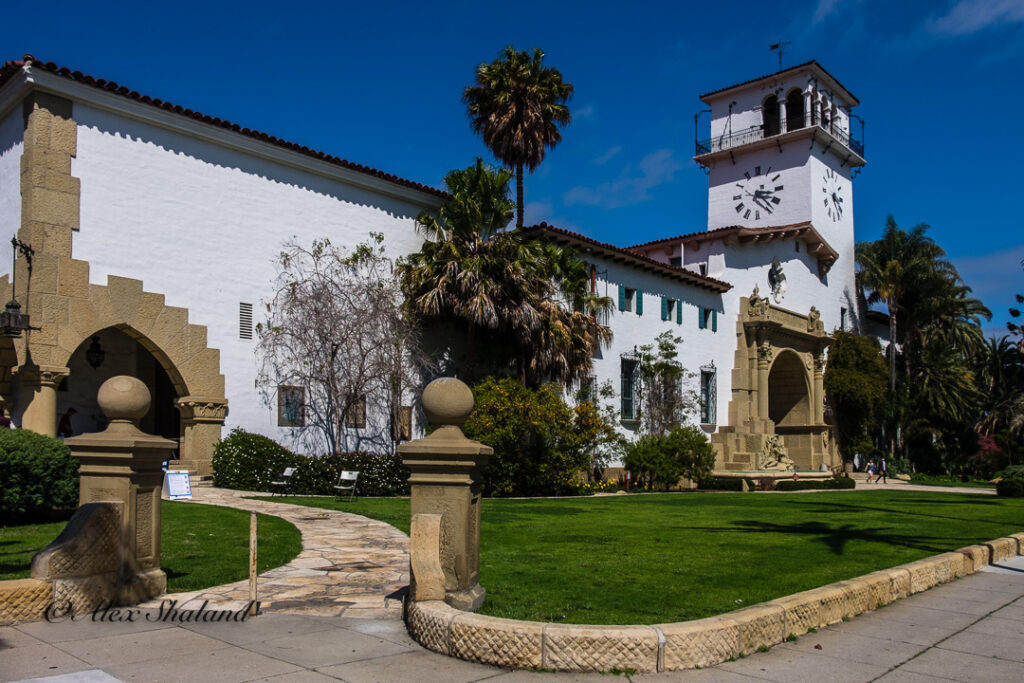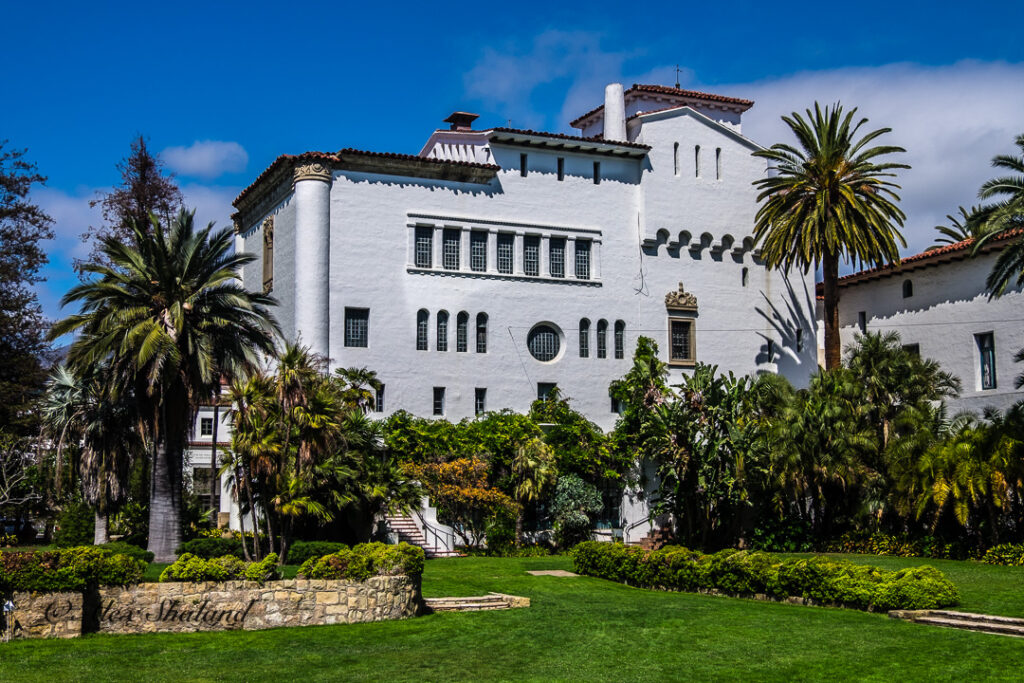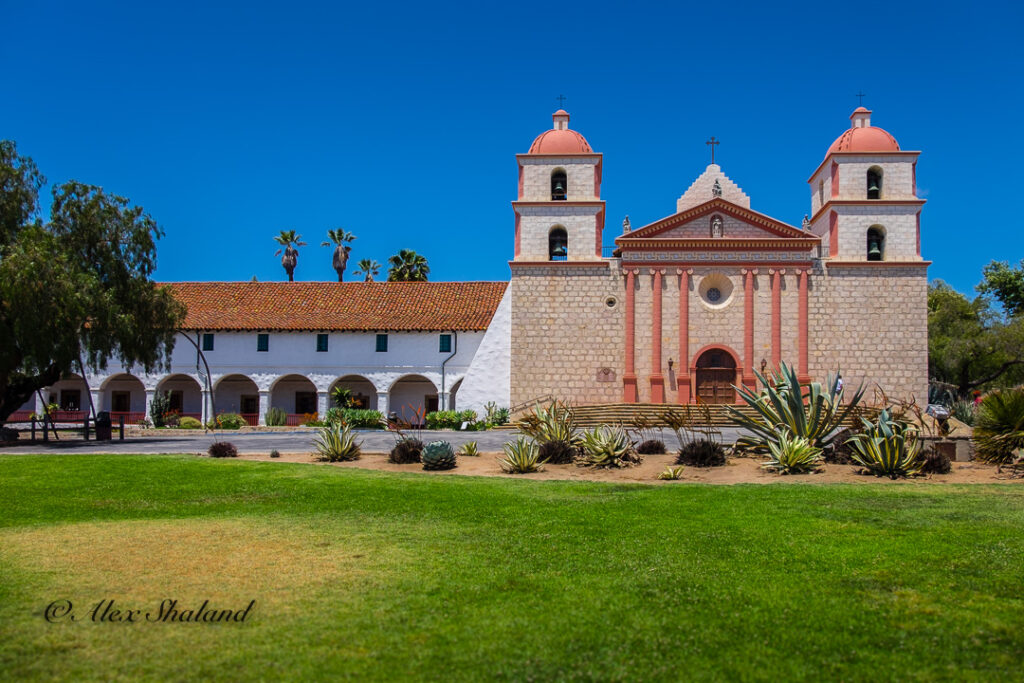 The Art Museum Santa Barbara Opens! Hooray!
Well, only two rooms were open on our last day in town to showcase the highlights of the Museum's impressive collections. But that was enough for us to feel that "normalcy"– identified by us as packed theaters and crowded museums – that normal state of things is just around the corner.  Our optimism was rewarded by two surprises: an amazing Marc Chagall "Jeune fille en marche" or "Young Girl Running" from 1927 and a beautiful "Portrait of Nadya" from 1890 by Ilja Repin who is largely unknown outside Russia.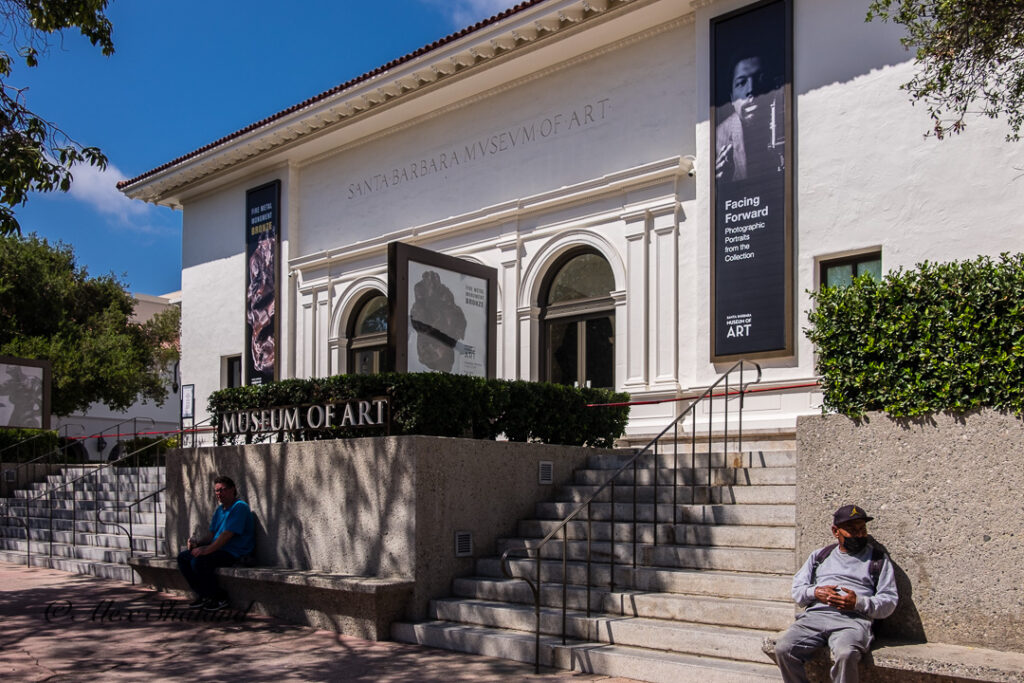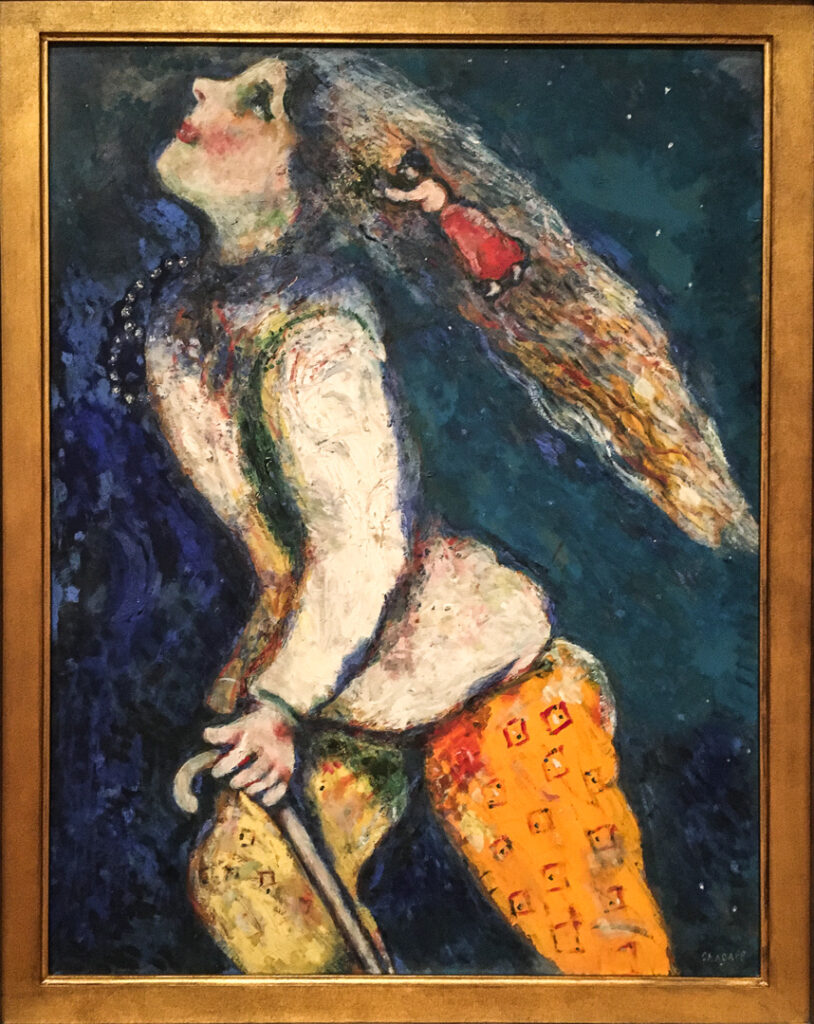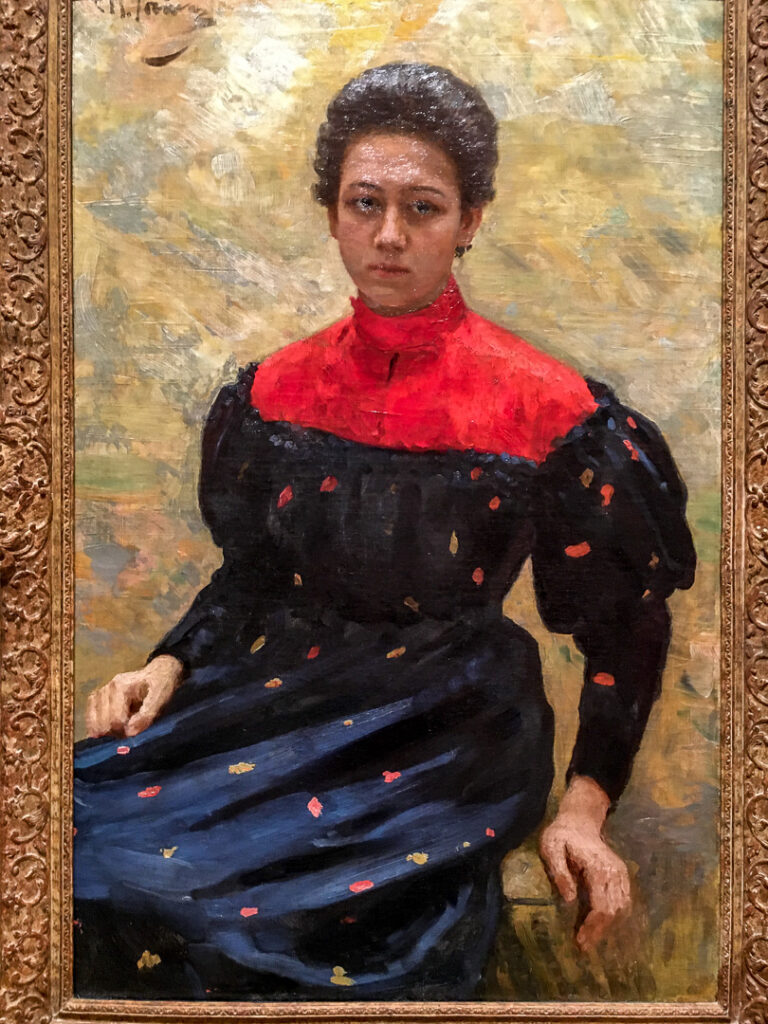 Not being impressed by the Funk Zone
We heard and read a lot about the city's widely popular area called the Funk Zone. This former industrial district is located between the ocean and Highway 101. You will find it right next to the Amtrak station. The Funk Zone is a complex of wine tasting rooms, cafes, art galleries, and funky street art. But for some reason, our hearts belong to State Street!
The Foodie Capital of California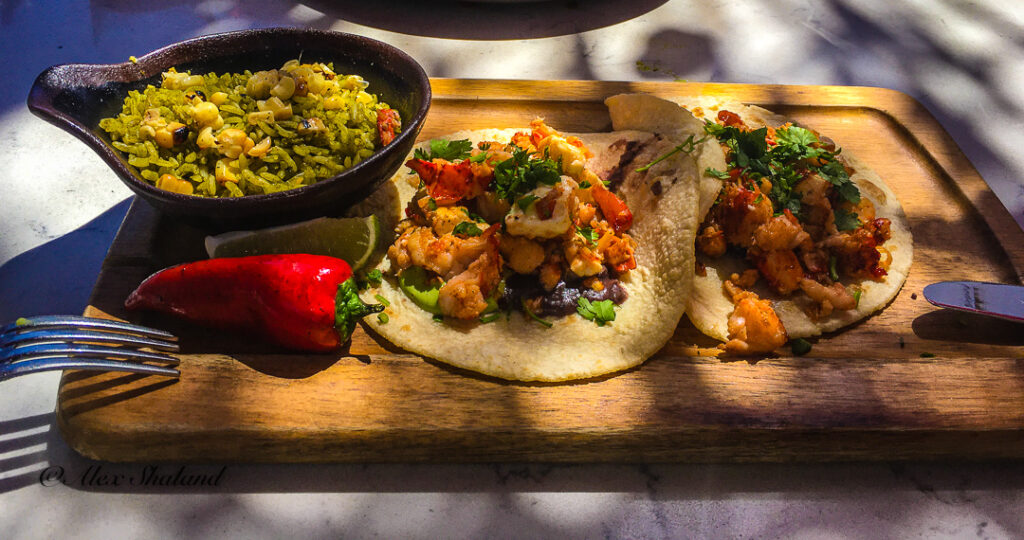 I do not think that Alex and I are fully qualified as typical "Food and Wine" travelers. We are too art and history-centered and too agenda-driven to be completely and professionally immersed in the food-n-wine scene. But we always see food and wine produced by the region and served at its restaurants as an integral element of the local history and culture.
  And so it happened that in our four-and-a-half days and five nights in Santa Barbara we were doing our best to eat and drink in as many places as it was humanly possible to appreciate the freshness and carefully-crafted quality of what we were served. Among all the fine dining places that we greatly enjoyed, our favorite place was …a seafood shack at the very end of the historic Stearns Wharf. We ate twice there, and we never do that during short trips when we usually strive to try as many establishments as possible!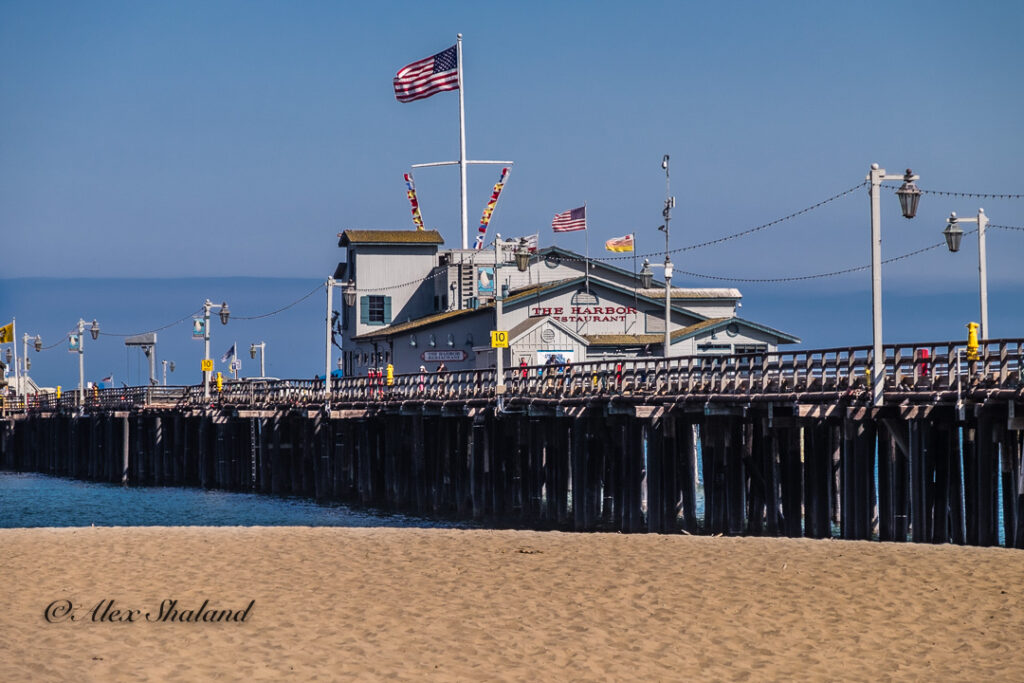 This famous wharf is located at the southern end of State Street. Built in 1872, it is the oldest continuously operated wharf on the West Coast. But most people come to this long rough wooden pier not for its history but the great views and the great food. Our favorite establishment was the Santa Barbara Shellfish Company.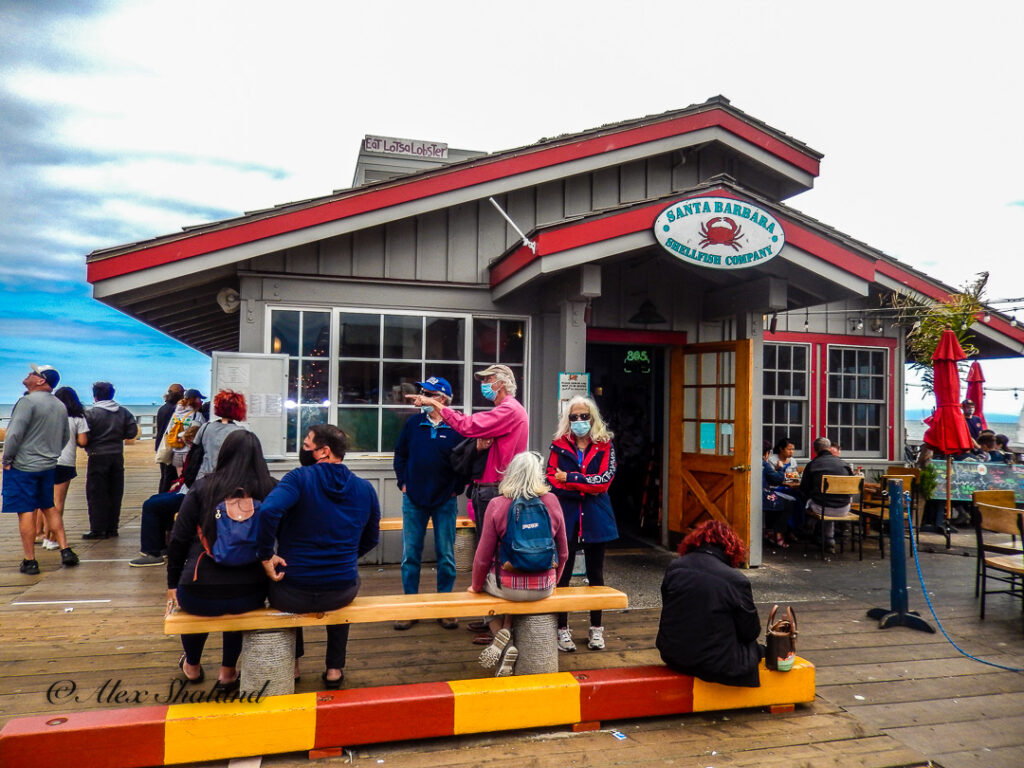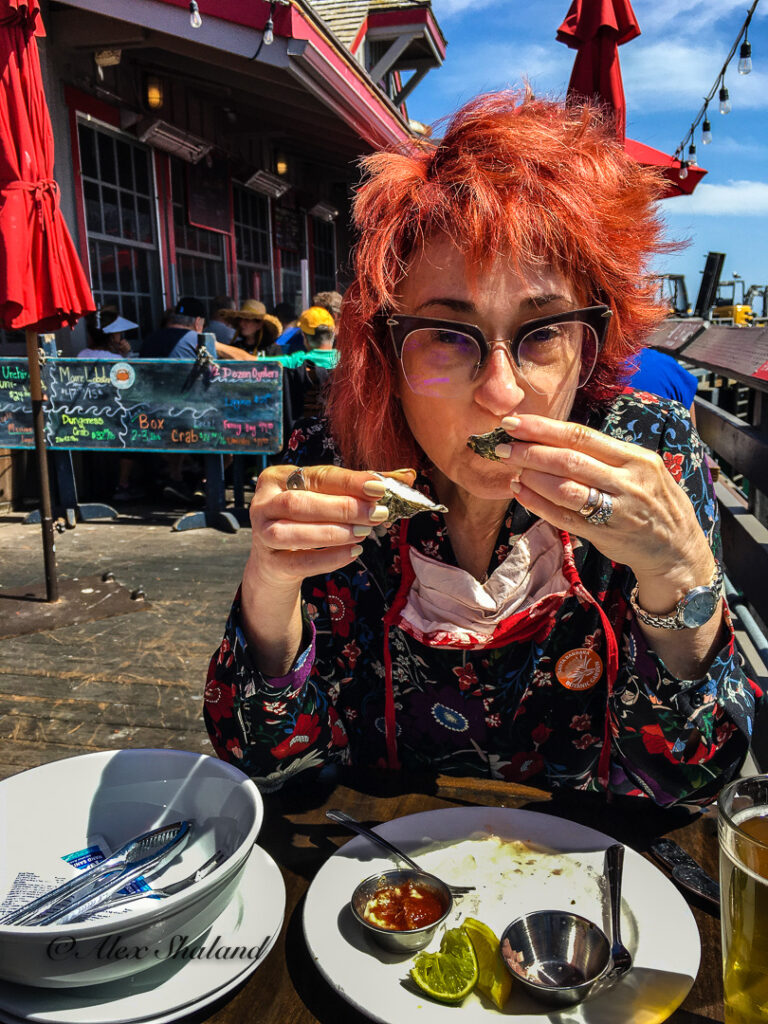 This company was born as a seafood takeout counter. For over forty years, it has been owned and operated by the same family. Today, the company is located on its original spot at the very end of the wharf. The first time we ate there, we had to shoo away the aggressive seagulls who wanted to steal our dinner. We had terrific lobster bisque, amazing cioppino, aromatic garlic-baked clams, and the rock crab, my personal favorite! And we came back once again—for more of the same!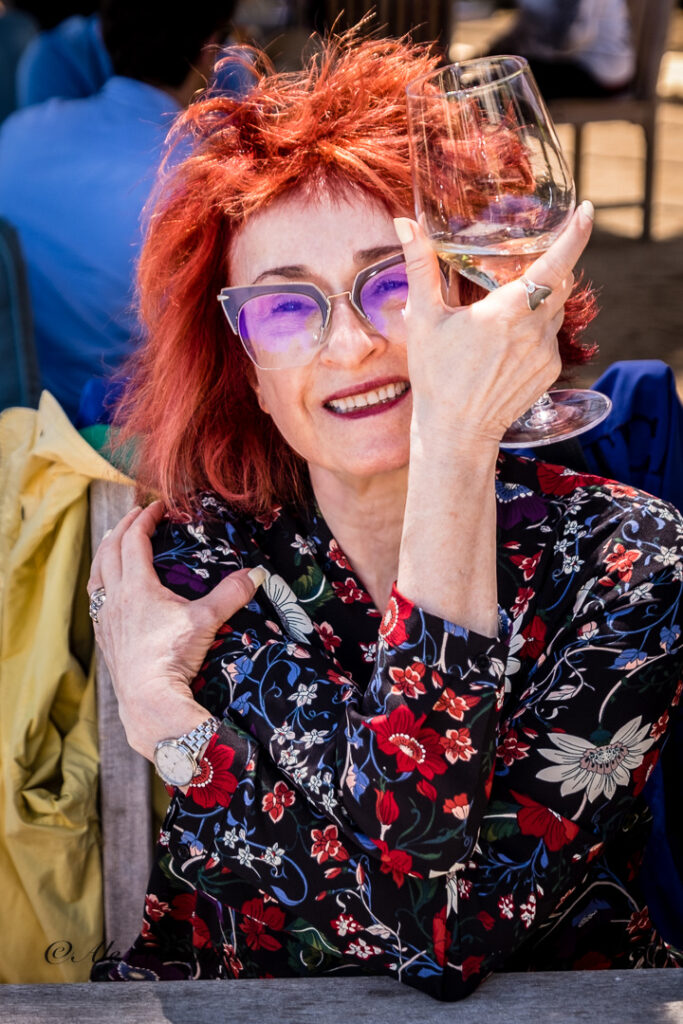 Find out more about the author and the photographer.