Excerpt from Irene Shaland's book "The Dao of Being Jewish and Other Stories."
Jews settled in Mumbai (Bombay) in the 18th century. First, the Baghdadi arrived in the 1730s. Then, the Bene Israel began migrating from the countryside into the city in the 1740s. Today, Mumbai has the largest Jewish community in India: 3,500 to 4,000 people, most of whom are the Bene Israel. We visited two of the city's eight synagogues: Kenesseth Eliyahoo and Magen David. Both were built by the Sassons, the wealthiest family of the Baghdadi Jews. The elegant blue structure of the Magen David Synagogue was erected by David Sasson in 1861. Hanna and Eliyahoo were waiting for us inside.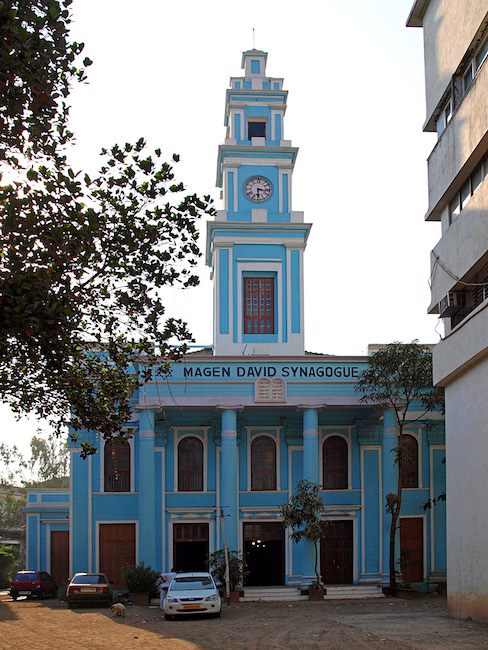 Hanna and Eliyahoo of Mumbai
Hanna Shapurkar and Eliyahoo Benjamin showed us the imposing Magen David Synagogue. Hanna is an art historian and a tour guide. She is petite, vivacious, and outspoken. We talked about our families and the food we like to cook for the holidays. "Yeeeak, beef!" she grimaced when I told her about my usual holiday brisket. Hanna said that though she is Jewish, she would never eat meat of a cow, a holy animal for the Hindus. Her family cooks mutton for Rosh Hashanah. We also talked about Jewish education in India and the importance of the JCC as a unifying center for the young Jews of Mumbai. Like Ezekiel Malekar of Delhi, Hanna is a Bene Israel Jew.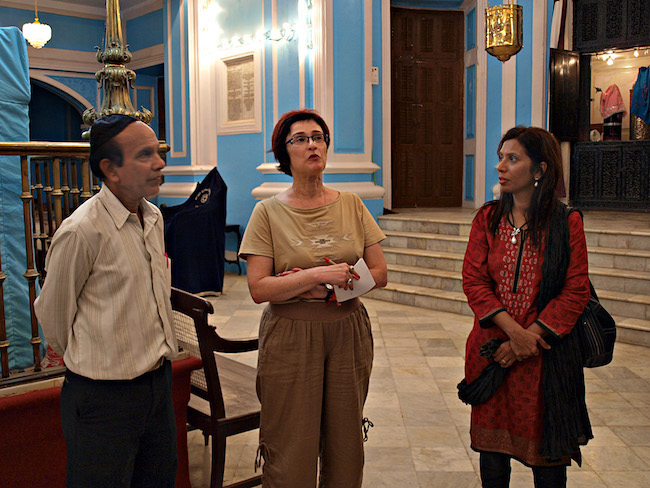 Eliyahoo Benjamin is the synagogue's caretaker. He proudly told us about the 150-year-old history of his synagogue. At one time, his congregation did not accept the Bene Israel. "They were thought to be too dark-skinned, not pure Jewish in blood," he said. But now, when so few are left, the differences are forgotten and they often pray together, especially during the holidays. Eliyahoo is a Baghdadi Jew. His and Hannah's first language is Marathi.
Muslim youths of Mumbai defending the shul
Today, the Magen David Synagogue is located in the middle of the Muslim neighborhood. Hanna and Eliyahoo told us that during one of the Hindu-Muslim clashes, the street youngsters wanted to make sure that no one harmed the synagogue. A group of Muslim boys joined their hands and formed a protective wall across the building's gates. This is the house of God, they said.
We also visited another great Mumbai synagogue called Kenesseth Eliyahoo. It is located in the famous Colaba district, not far from major city landmarks like the Taj Mahal Hotel and the Gates of India.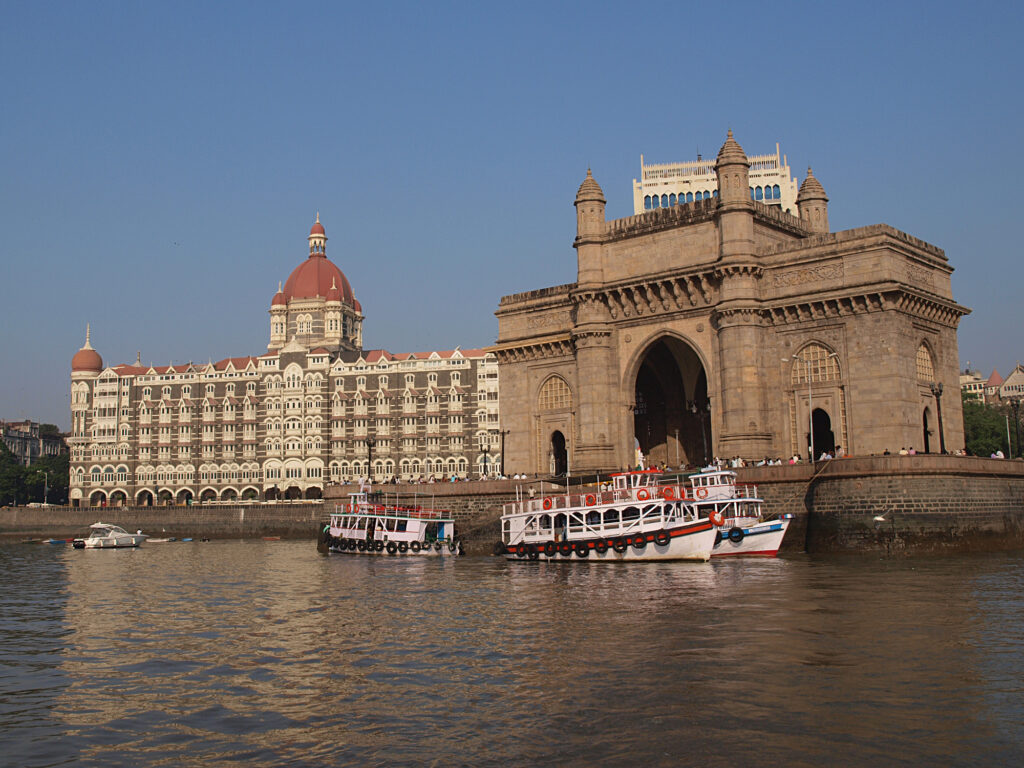 Excerpt from Irene Shaland's book "The Dao of Being Jewish and other Stories" available at Amazon in eBook, Paperback, and Large Print formats.
Learn more about Irene Shaland.