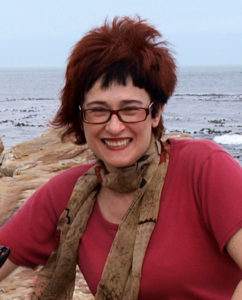 Irene Shaland is an internationally-published art and travel writer, educator, and lecturer. She focuses on the rich tapestry of global Jewish experiences, culture, and heritage. Irene writes and lectures on various countries' responses to the Holocaust. A member of the international Society for Crypto-Judaic Studies, she is a regular presenter at the Society's annual conferences and contributor to its HaLapid academic journal.  Irene is a contributing author and lecturer at such academic institutions as Siegal College of Jewish Studies and Touro Law School of New York; museums and cultural institutions, like the Center for Jewish History Research/American Sephardic Federation in New York and Maltz Museum of Jewish Heritage in Cleveland.
Irene Shaland is the author of four books, including her recently published  "Shaland's Jewish Travel Guide to Malta and Corsica" and "The Dao of Being Jewish and Other Stories" and numerous magazine articles on Jewish history and cultural travel published in such American, Canadian, and U.K magazines as Baltimore Jewish Times, Boston Forward, Chicago Jewish News, The Jewish Journal of Greater Boston, Cleveland Jewish News, Cleveland Plain Dealer, Detroit Jews News, Hackwriters Literary Online UK magazine, Holiday Magazine – France/UK, IMAGE Magazine, Jewish Journal of San Antonio, Jewish Life Magazine, Jewish Montreal, L'Chaim Magazine of the Intermountain Jewish News, London Jewish Telegraph, Los Angele Jewish Times, The Lotus, Montreal Jewish Magazine, Northern Ohio Life, Orange County Jewish Life, Jewish Chronicle – Pittsburgh, ROMAR Travel, San Diego Jewish Journal, Shelanu – Kenya, Sino-Judaica Institute Academic Magazine, Theater Journal, Tikkun Magazine, Toronto Jewish Tribune, Washington Jewish Week, ZEEK Magazine, and 5 Towns Jewish Times.
Irene holds a BA in Journalism and Art History from St. Petersburg University (Russia), a Master's Degree in English from Case Western Reserve University (Cleveland, Ohio), and a Master's Degree in Information Sciences from Kent State University (Kent, Ohio). Irene and her husband, travel photographer Alex reside in Lyndhurst, Ohio.
Irene is the author of two books on the history of theater, drama, and intercultural interpretations. Her book Tennessee Williams on the Soviet Stage is available at Amazon.
Her third book The Dao of Being Jewish and Other Stories was published in January, 2016. Paperback, Large Print, and Kindle editions are available at Amazon.
Irene Shaland latest book Shaland's Jewish Travel Guide to Malta and Corsica Irene was released in Paperback and Ebook (Kindle) formats in 2021  available at Amazon.
| | |
| --- | --- |
| Paperback Edition | Ebook Edition |
| | |
Kindle Edition
Paperback
Edition
Kindle Edition
Paperback
Edition
Large Print
Paperback
Edition