I came across the name "Casa Cuseni" when I was reading about Tennessee Williams and his beloved partner, painter/poet Henry Faulkner, spending many happy months in Taormina while staying in Casa Cuseni. I knew then, without a doubt, that when we are in Sicily, we will follow the steps of Tennessee! We and our four friends arrived at Casa Cuseni on a beautiful late September afternoon. We were met by the B&B's smiling owner, an MD and art lover, Francesco Spadaro, and we followed him up the stairs through a terraced garden. 
At that time of the day, Taormina is lit by magical shades of golden-bluish light coming from above and below, the sky and the sea, and indeed seems to become "la bella Trinacria," Dante's name for Sicily. The most beautiful city of Sicily, Taormina, was called by Goethe "a little patch of paradise."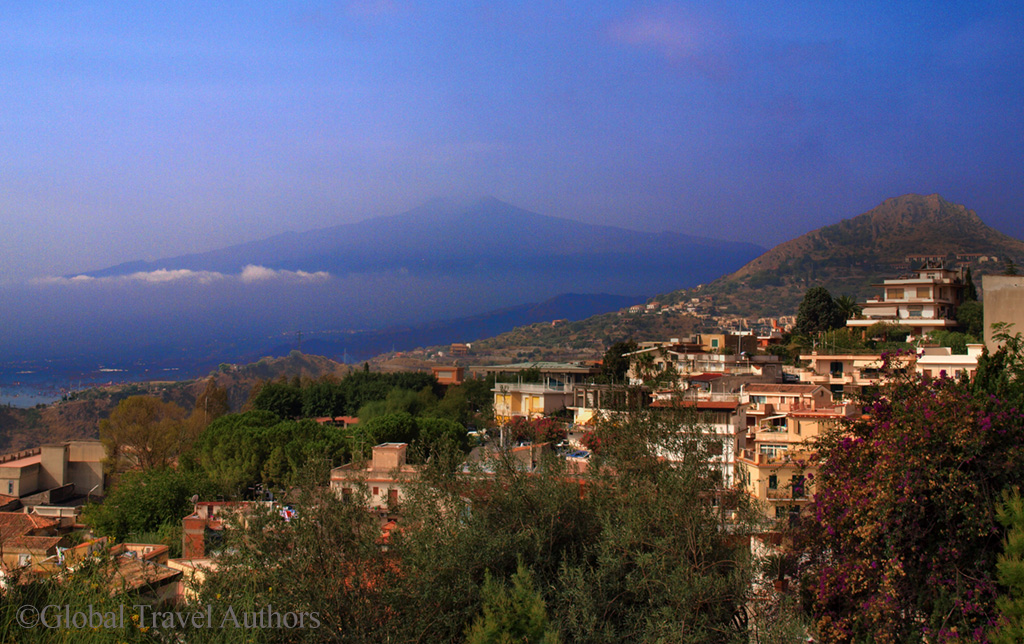 Many visitors today, though spell-bounded by Taormina's almost supernatural beauty, find it hard to believe the great German poet: the city is literally occupied by crowds of tourists; its cathedrals and palaces are taken over by unending weddings. For us, though, it was Casa Cuseni which embodied the best that "paradise" of Taormina has to offer.  Just like Taormina is not your typical Sicilian town, Casa Cuseni is not the B&B one may expect, but a destination by itself, a living museum of arts and letters, "a place where Art has found its Home," as Francesco Spadaro calls it.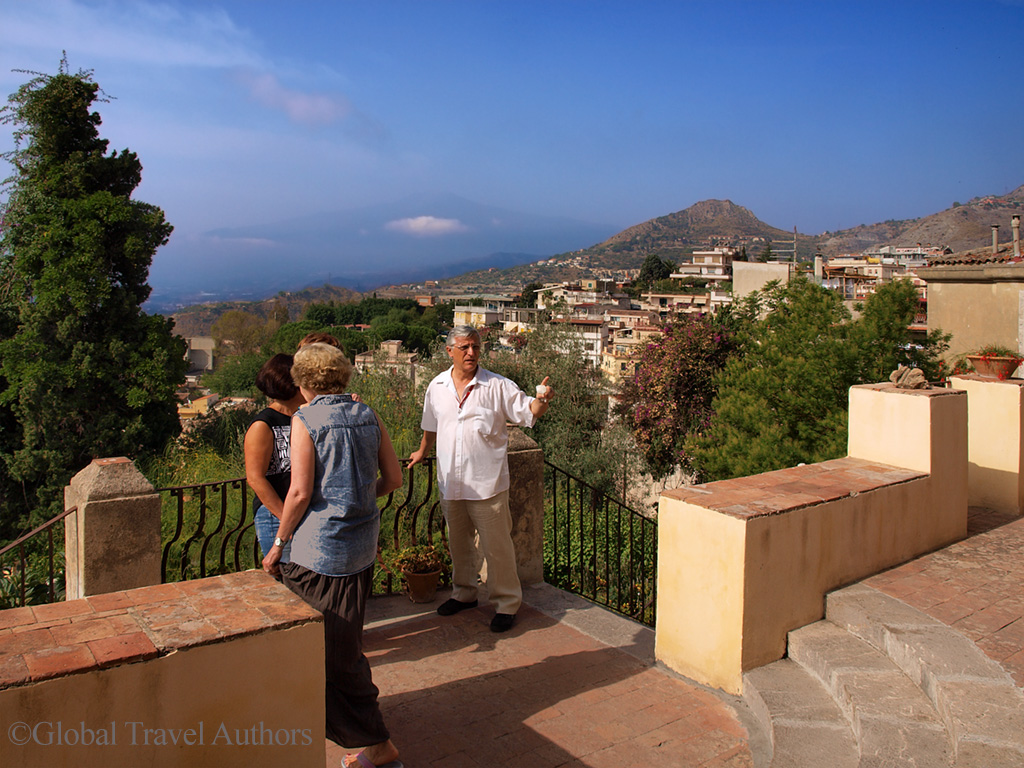 The villa called Casa Cuseni was designed and built by the leading member of the British Royal Academy of Arts, painter Robert Hawthorn Kitson, in 1905. For Kitson, Casa Cuseni became a refuge, a home away from the world of Victorian morals and his Yorkshire family with their judgmental attitudes toward his life style. Since Kinston was an Art Nouveau or rather Arts & Crafts artist in love with Italy and Sicily, the house and gardens he designed present a harmonious mixture of art nouveau, and Liberty and Sicilian styles. Robert Kitson's teacher and friend, Frank Brangwyn, designed the paneling and furniture and created a mural in the dining room. This beautiful, elegant, and refined mural invokes a poignant feeling of being singled-out and ostracized. Brangwyn figures symbolize homosexual love, threatened and persecuted by society.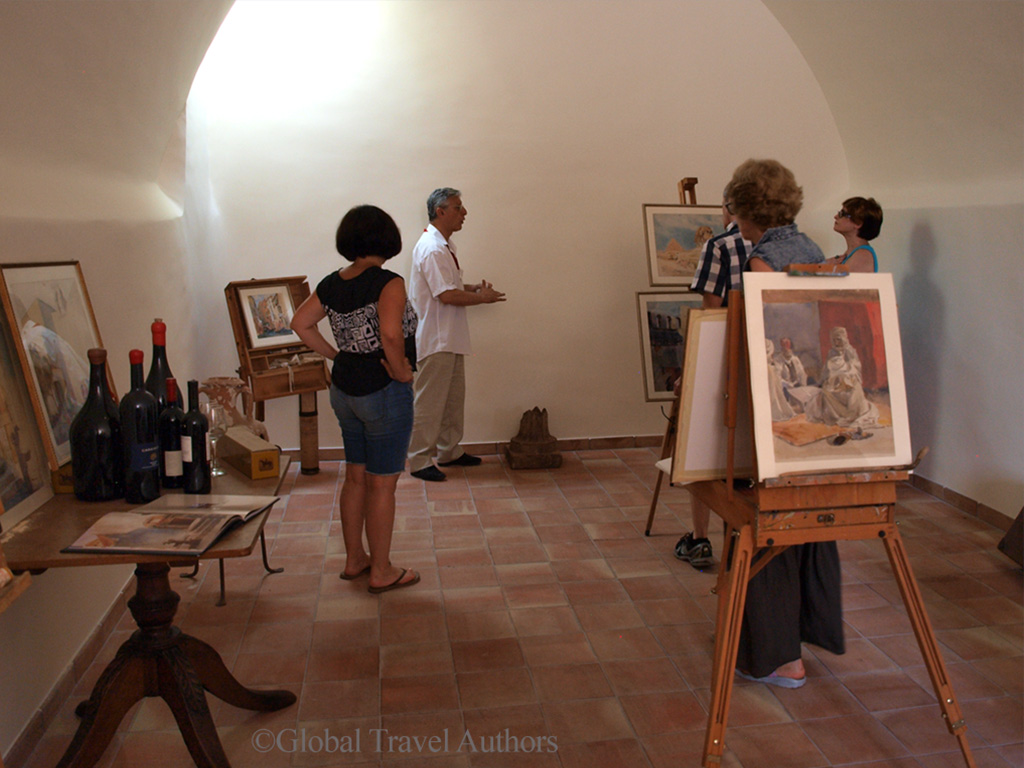 Just like gay-friendly Taormina became a refuge for those artists, who like Oscar Wilde were exiled from their home-countries, Casa Cuseni turned into an intellectual oasis for artists whose views or life-styles were not considered moral or conventional: D.H. Lawrence, Tennessee Williams, Henry Faulkner, Truman Capote, they all met over drinks on the rooftop of the house overlooking the town and the volcano Etna in the background.
When Robert Kitson died in 1948, his niece, Daphne Phelps, came all the way from Great Britain to Sicily to sell the house. But she fell in love with the place, the country, and the people and decided to stay on and have paying guests. She went on to write A House in Sicily, one of the best books about this island.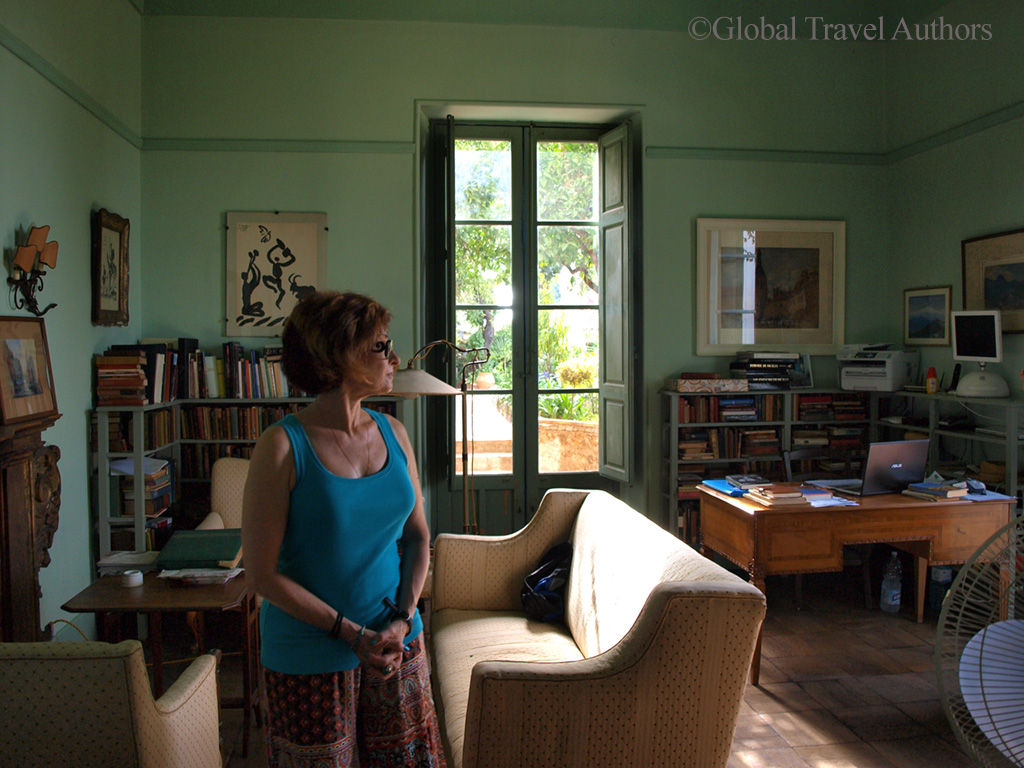 This house, as shown by the wonderful manager Salvatore, has become alive for us and turned into one of the main characters of Sicily. In addition to the beautiful furnishings and a mural, the house's treasures are displayed everywhere: you live in a living and breathing museum surrounded by Picasso, Faulkner, Kinston, plus the countless treasures of Kinston's personal collections such as Sumerian, Greek, early medieval, and Renaissance priceless pieces.
I was particularly impressed and deeply touched by Salvatore spending an hour of his time to share with us the house's collection of Tennessee Williams' writings and private letters.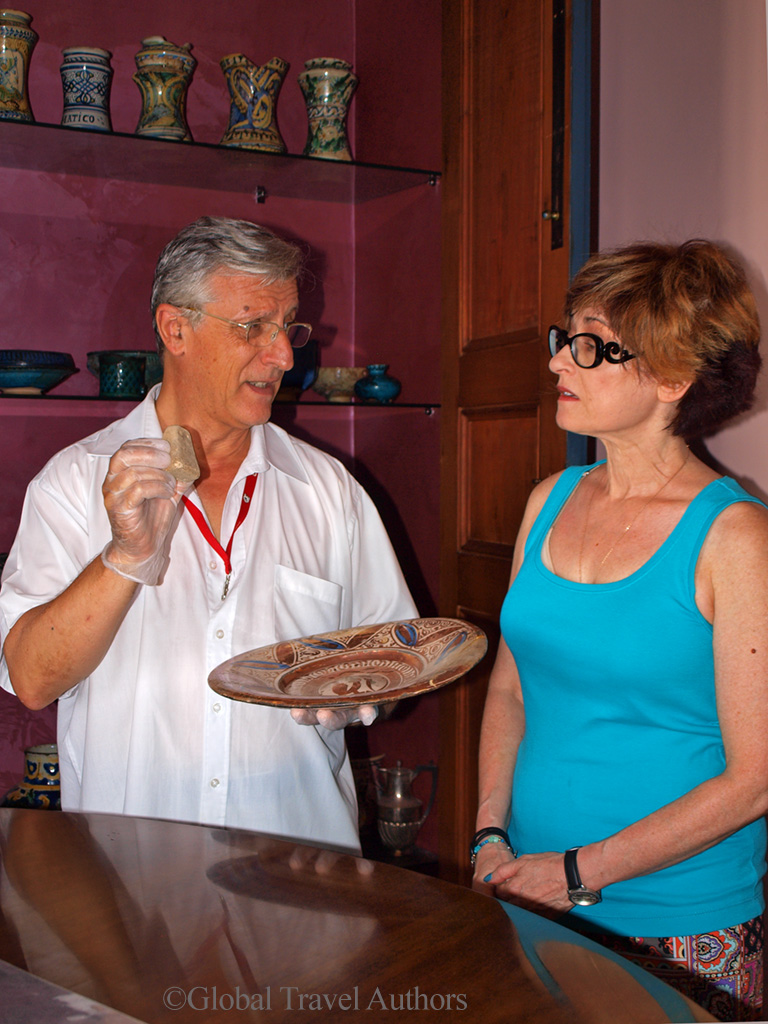 Though inseparable from Taormina, Casa Cuseni is a world treasure, a must destination for any art and literature lover.
Our heartfelt gratitude goes to  the owner Francesco Spadaro and manager Salvatore who make every guest feel at home.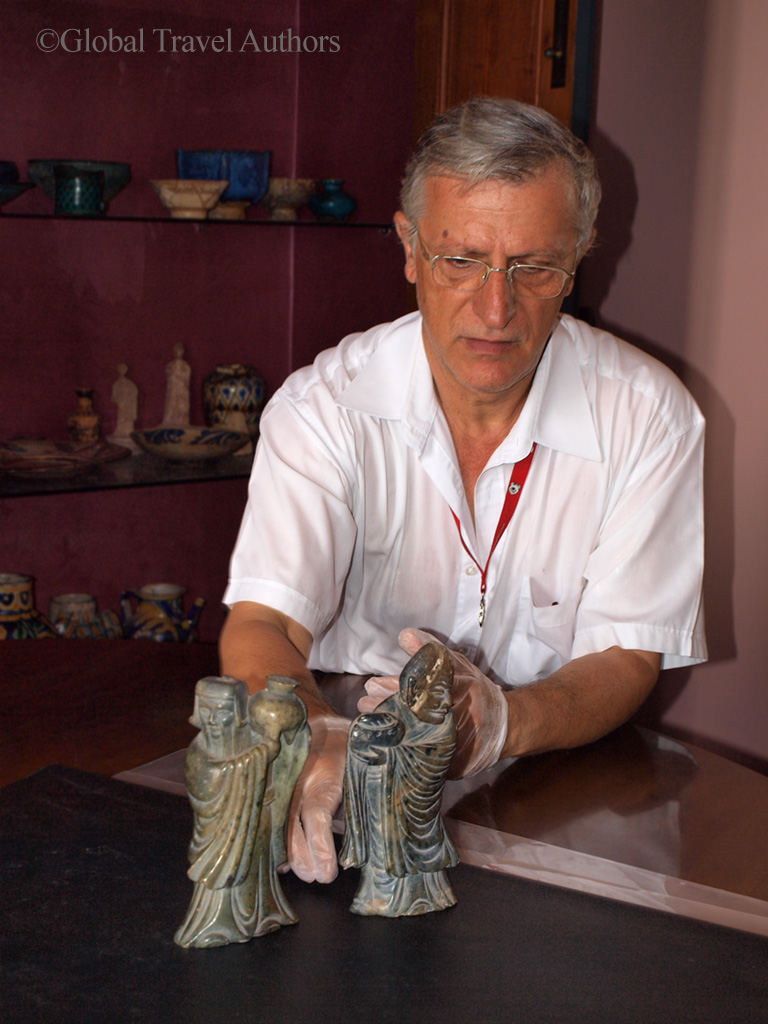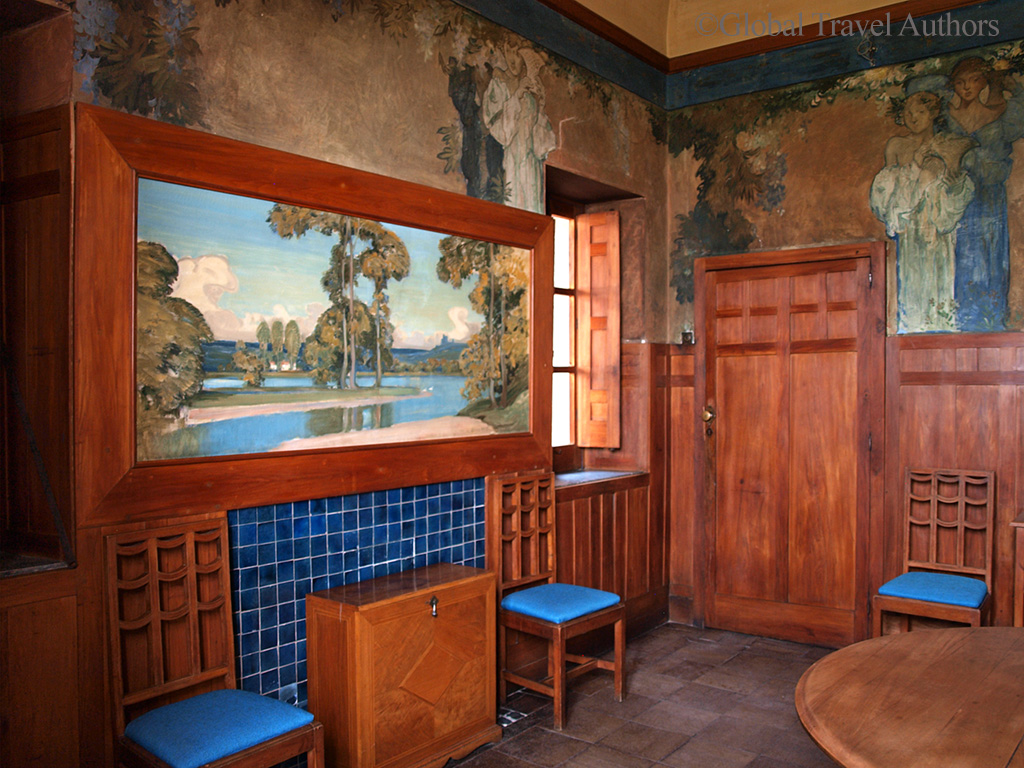 The soul of Casa Cuseni: the dining room furniture and evocative Art Nouveau paneling designed by Frank Brangwyn, Casa Cuseni, Taormina, Sicily