Sicily is not Italy, even though the island has been administratively part of that country since the 1860s. Likewise, Sicilian food is not Italian, though of course it has been influenced by the mainland cuisine. Only in Sicily, a paradise for art lovers and foodies alike, one can see and experience a successful harmonization of so many different influences. And I do not mean only mosaics and architecture. Their food is a true masterpiece on its own. Sicilians never rejected the past but with love and care combined all the trends brought by many invaders over the last three thousand years.
The ancient Greeks introduced grapes, olives, figs, pomegranates, walnuts, and hazelnuts. The Arabs brought in oranges, lemons, apricots, and sweet melons, along with sugar, rice, saffron, raisins, nutmeg, and pine nuts. The Arabs are also credited with inventing dry pasta and ice cream during their relatively short rule of the island one thousand years ago.  If the Normans and Germans brought their fondness for meat, the Spanish introduced products from the New World: peppers, maize, and cocoa.  The island cuisine adopted it all and created their own: anyone who was fortunate to eat true Sicilian food would be running back for more!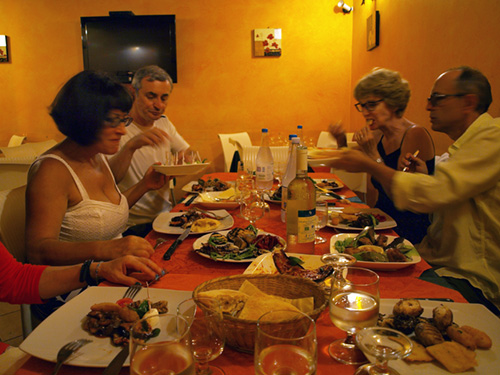 I strongly suggest any first-timer in Palermo to start their culinary explorations at "El Pepita." This is what we did. Contact Nino the owner in advance and tell him that Irene Shaland, a travel writer, who had the best birthday party at his place – recommended his establishment.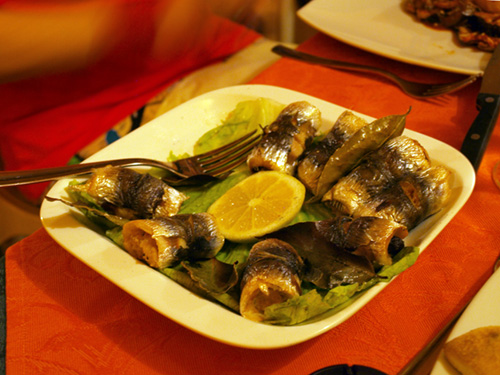 Located near Teatro Massimo, this old family-owned trattoria called "El Pepita" became our gateway into an understanding of the food of Sicily. Loved by actors and the locals who appreciate good old-style cooking, the guests are always met by the smiled host Nino who makes one feel at home right away.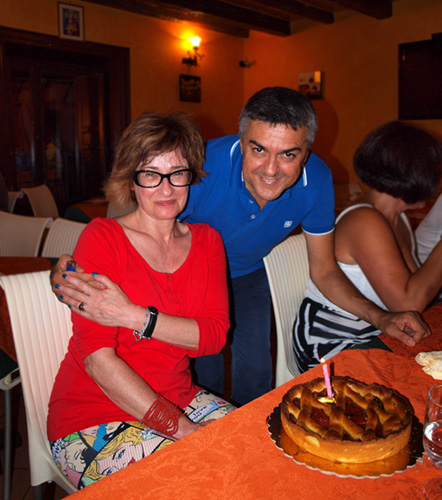 My husband and I, our four friends, and our terrific guide Bianca Del Bello had my birthday dinner at El Pepita. And what a birthday feast it was: a celebration of traditional cuisine turned into a lesson on history and a festival of flavors.
Nino and his wife, a marvelous cook, made our celebration an unforgettable special occasion.
Nino arranged for us to try multiple examples of Palermian street food. Panelle di Ciciri – a fritter made with chickpea flour and parsley and then fried in olive oil; Caponata – a slow-cooked ratatouille-like stew of eggplants, tomato, onions, pine nuts, and spices; Arancine – little balls of saffron rice with tomato and cheese ragout inside, rolled in flour and bitten eggs and deep-fried; fried Potato Crocche with mint and mozzarella – these a just a few examples of our tantalizing appetizer trays.
To introduce us to Sicilian fish appetizers, Nino brought in Involtini di Pesce Spada – little rolls of sword fish stuffed with pine nuts, raisins, bread crumbs, and anchovy filets,  with orange and lemon juices added for flavor, along with eggs and grated pecorino. They were cooked on skewers with bay leaves and onions. Sarde a Beccafico alla Palermitana were next: fresh sardines made into small rolls with pine nuts, raisins, capers, and parsley and then grilled to perfection. Grilled vegetable trays were incredibly favorable as well.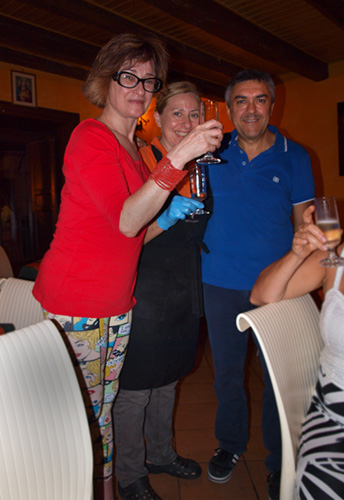 Our pasta dishes were also most representative of the region and its history. Pasta con le Sarde: incorporated fresh sardines sautéed in olive oil, deglazed with white wine, and then dressed with golden raisins, almonds, lots of chopped finocchietto or fennel, and juniper, and then pasta was  topped with roasted bread crumbs.  The second pasta was purely vegetarian and called Pasta alla Norma in honor of the great Sicilian composer Vincenzo Bellini and his famous opera. Since Bellini was from Catania, a city both nourished and ruined over the centuries by the volcano Etna, this pasta symbolizes the volcano: slowly-cooked augergines resemble black lava, while cherry tomatoes stand for fire and white cheese on the top is snow on Etna.  Of course thyme, oregano, and grated pecorino all add to the unforgettable flavor!
The selection of local wines was excellent; at the end, Nino presented us with a wonderful local sparkling wine on the house to mark the celebration.  If you want a great desert, ask Nino to make the same watermelon cake they did for me as a present from Bianca.
All in all, I cannot think of a better place in Sicily to start you on your culinary trip!
El Pepita is located at Via Giacalone, 3, near Teatro Massimo.  Call Nino in advance to ask for a special treat at 39-091-588634.