"I personally admire Irene and Alex for the extensive research they do about Judaism is countries other then Europe. Many of my friends traveled to India , Burma, China and their stories are ordinary in comparison to stories you tell. I always enjoyed history . You share with me, personally,  history of our people in most unusual places. I'm fascinated listening to you. Of course I understand how hard it is not to have a live audience , feel the dynamics, the connection. However , you did very well.  Your personality comes through to me even vertically." –M. Svets following Sept. 30, 2020 "Travels in Jewish History Part I" lecture.
————————————————————————————–Audience testimonials following Alex Shaland's lecture "African Safari 101" at the Visible Voice Books on May 18, 2019
"Alex was so informative and funny. Thanks for the opportunity to learn so many new things.–Sam M. Cleveland, Ohio, May 19, 2019
"It was truly wonderful! Alex is hilarious." – April, Cleveland, Ohio, May 19, 2019"
It was terrific. I always learn so much from the Shaland family presentations and books!" – Sam F., Cleveland, Ohio, May 19, 2019
"It was wonderful. I enjoy Alex's great senses of humor. And the insight. Always with cool little details that open up my world." — Molly D., Cleveland, Ohio May 19, 2019
——————————————————————————————–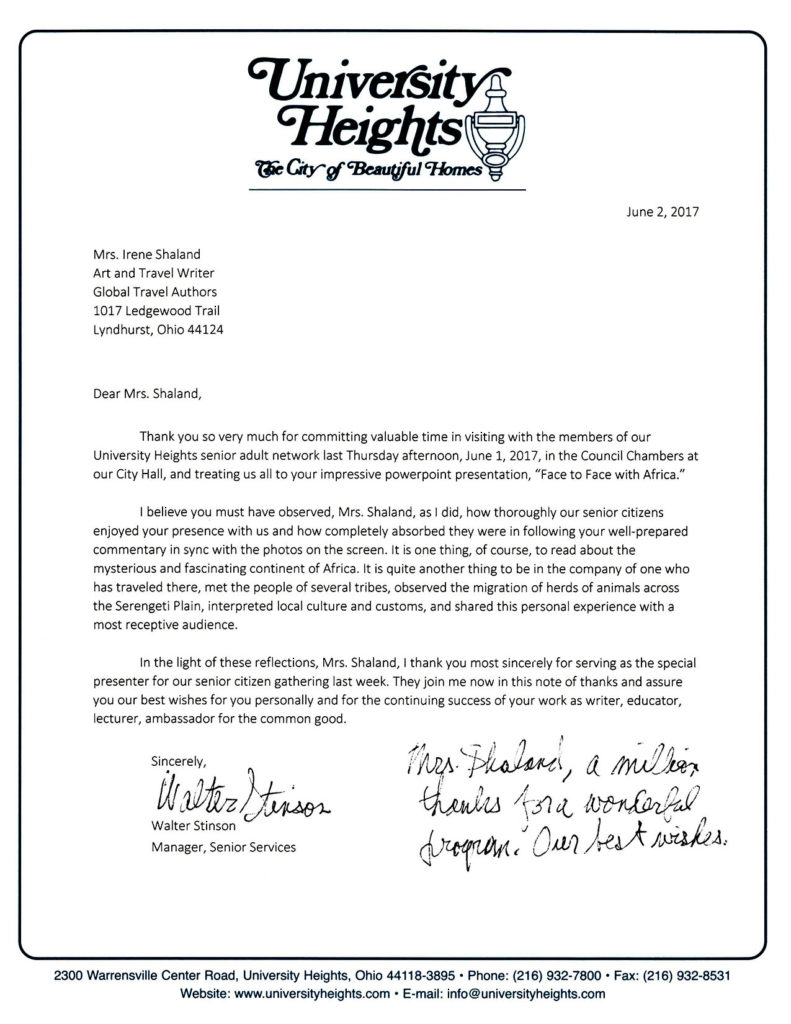 It was such a pleasure to attend your program on Africa!  My mom enjoyed the evening very much and Max loved the pictures of the wild animals! Carla Victoroff. 09/22/16, Orange Public Library.
———————————————————————————————
Irene,it was my pleasure. I enjoyed it very much and related the entire evening to my family on returning home. You always have a great talent in presentations that captivate your audience. I thought everyone in the motley crowd (though sparse by your standards) left with a sense of fulfillment and extra knowledge of the holocaust, the intensity of love and a wider perspective of other times and cultures. Sam Mathew MD, MS,
Senior Lecturer
 (Aug. 17, 2016 lecture at Artists Archives of the Western Reserve)
———————————————————————————————
Irene, The talk was very informative and insightful.. I enjoy all of your lectures because of the material presented and how you organize it. Great talk! Robbie (book event at South Euclid Library on 6/15/2016)
——————————————————————————————–
Irene, you are such a star historian that I always come across having learned something new.  Bob (book event at South Euclid Library on 6/15/2016)
——————————————————————————————–
It was our pleasure… You presented a LOT of information which I would consider thesis level.  The photography in the slides was beautiful… Well done. Stuart Pearl, "Stuart Pearl Photography. (lecture comments on Dec. 16, 2015 lecture Stones Fill the Void at the Maltz Museum in Beachwood, Ohio.)
 ——————————————————————————————-
Comment following Dec. 16, 2015 Vienna lecture at the Maltz Museum of Jewish Heritage: "Wanted to thank you before I left the museum this evening, but you were talking to some people and I had to go. As a docent at the Maltz Mus. , I lead many holocaust tours and as a result, I do a great deal of reading about the events of the holocaust. But with all of the reading I do, I was unaware of the role that Vienna and Austria played in the events. I learned so much from you tonight! I was sorry I hadn't brought a note pad with me, so I could write down things I specifically wanted to remember and use in the tours I give. So I'm making notes for myself now that I'm at home.
I knew exactly what picture you were talking about when you mentioned the photo of the Jewish man having to scrub the sidewalk with a brush. I don't remember when I first saw it, but it is one that is pretty much "seared in my brain."
You give a very comprehensive lecture and Alex's pictures are incredible. I plan to try to attend lectures any time you are presenting.     Renee Siegel, docent at the Maltz Museum"
——————————————————————————————–
Mark and Marina Neyman of Solon Ohio wrote after attending "Stones Fill the Void" lecture at the Maltz Museum: "It is always a great pleasure to listen to your most insightful and informative lectures."
——————————————————————————————–
Dear Irene,
Thank you very much for presenting "In Search of a Happy Jewish Story in India" in our branch on August 13!
 This is the feedback we got:
Most patrons, who filled out evaluation forms, were "Very Satisfied" with the program and rated it as either "Very Valuable" or "Valuable".
Comments:
-Excellent information and charming!
-An amazing information, very informative and interesting. Great presentation!
-Fascinating program – a subject I knew nothing about before the presentation.
-Great program!
We are looking forward to working with you in the future.
Thank you again,
Julia Doyle, PSAI   Cuyahoga County Public Library, Orange Branch     31975 Chagrin Blvd. / Pepper Pike, Ohio 44124
——————————————————————————————–
It was a pleasure attending your talk. I learned a lot more about my country. Alex's pictures were outstanding.
Sam Mathew, Orange Public Library, OH, Aug. 13, 2015 (In Search of a Happy Jewish Story in India)
——————————————————————————————–
I enjoyed your lecture. Meala Shvetz, 
Orange Public Library, OH, Aug. 13, 2015 ( lecture comments on In Search of a Happy Jewish Story in India)
——————————————————————————————–
Irene & Alex,  Thank you for the informative lecture and original photographs highlighted in the Powerpoint presentation yesterday. The audience left with a new understanding of the vast continent of Africa and its many four legged inhabitants.  Olga Kuharets, Adult Programs Coordinator, Fort Lee Library, NJ. April 19, 2015 (Face to Face with Africa through the Eyes of the Jewish Explorer)
——————————————————————————————–
Alex's display is already receiving curious views from patrons coming into the library and I hope our local paper will feature a story on the exhibit
"How many of us visit countries to delve deep into their history, their people, the geography, their architecture and design? Irene Shaland and her husband Alex, make every penny they spend on such visits worth it, not only for themselves but also for all those who attend their presentations following their visits. Irene not only captures the external details in finesse but also delves deep into the minds of the people, past, present and future, adding their emotions and real experiences, in order to make our experience of these countries surreal. It was as though Irene took me by my hand and showed me the intricacies behind each nook and corner of these countries. On that evening, in a little less than 2 hours, Irene and Alex traveled us through 3 countries Denmark, Norway and Sweden with such precision and detail, without we booking our air tickets or working for our hotel accommodations. "Scandinavia though the Eyes of a Jewish Traveler" was an exposition into the inner sufferings of Jews of those days, their resilience against odds, and their determination and grit to overcome crisis after crisis. Every frame was profound, touching and deeply engrossing. I've never seen anyone present with such confidence and thoroughness as Irene. The stories of the Vikings, Danes, Swedes and Norwegians, of King Christian V, followed by Christian VIII, the sad story of Raoul Gustaf Wallenberg and his courageous saving of tens of thousands of Jews from the Nazis, the descriptions of cities like Stockholm, Malmo, Oslo, and Copenhagen, and the poignant stories of some Jews who still continued to live there but waiting for their true freedom, were all touching and deep, bringing moments of sadness among the audience, who were drawn into rapt attention throughout. Alex was a perfect foil to Irene, as he elegantly drew a tapestry of images that caught the people's imaginations well and blended seamlessly with the pathos that Irene laid out. Truly, the entire evening was an unforgettable experience, an experience the audience lived, not just heard and saw. This unique couple has immense talent and passion, to present the world to others in a most exquisite manner." Sam Mathew, 3-15-2015
———————————————————————————
"Very informative, well organized, interesting!!  Wonderful pictures!!  I've visited these countries and loved them.  Now I am beginning to think about them differently.  I learned so much.  I'm a volunteer docent at the Maltz.  You've given me so much to add to the tours I give.  Having gone to Norway, Sweden, Denmark, Finland and St. Petersburg Russia on the tour, many things run together and I have to think about what I saw and where I saw it.  I brought home a small figure of a child bending over.  I was very attracted to it and bought it, not knowing what it stood for.  I love it even more now that I know that it's a copy of the iron statue of a child, representing the children who were "messengers" for the resistence during WWII. Please consider me as one of your "groupies" that follow you around listening to your lectures and learning from them. Renee Siegel, March 4, 2015 Maltz Museum (Scandinavia through the Eyes of a Jewish Traveler)
———————————————————————————-"Irene and Alex, It was so nice to see you both together and learn about the immense talent and passion you have to visit countries and present the world to others. Irene, I have never seen anyone present like you. Your confidence and thoroughness was unbelievable. I returned home and was all praise for you, to my wife and children. Truly, it was an unforgettable experience. Thanks for inviting me, otherwise I would have missed a terrific evening. Alex is exactly what I imagined in my mind, very jovial, articulate and extremely friendly. Together you two make the most perfect couple." Sam Mathew March 2015 (Scandinavia through the Eyes of a Jewish Traveler at the Maltz Museum of Jewish heritage, MARCH 4th, 2015)
——————————————————————————-Thank you so much for inviting me. It was a great experience. Would you, please, keep in touch and inform me with your programs." Tatiana Shneyder (Scandinavia through the Eyes of a Jewish Traveler at the Maltz Museum of Jewish heritage, MARCH 4th, 2015)
———————————————————————————
"Hi Irene, It was such a pleasure to have you present, and I look forward to setting a date for a future program.  Let's revisit the discussion after Chasing Dreams opens in April." Kind regards, Jeffery Allen, Director, Education & Public Programs (Scandinavia through the Eyes of a Jewish Traveler at the Maltz Museum of Jewish heritage, MARCH 4th, 2015)
———————————————————————————
Hello Irene and Alex,  Thank you immensely for your excellent program last night about the Jewish experience on the Silk Road past and present.  The history and culture, but especially the span of time that you covered were phenomenal.  Your slides and their format are very well prepared and made for a beautiful presentation.  There were forty people in the audience and I know they were all enriched by the experience.  Take care, Bob (Robert Bartolotta, Adult Programs and Seismic Observatory, The Cleveland Museum of Natural History) September 3, 2014 (In Search of a Jewish Story in China), The Cleveland Museum of Natural History
———————————————————————————
"Slide show amazing and you guys just cool! "Irina Serebrennikova, Westlake, OH, December 2013 (Africa, Great Migration)
——————————————————————————————–Following Great Migration: "In regard to your presentation on Africa, I really thought it was absolutely great.  I loved seeing the animals so vividly and learning so much about East Africa and Zanzibar." December 15th, Lois Jacobson, Cleveland OH
———————————————————————————
"Thank you for the wonderful show yesterday party – it was fun and greatly enjoyable." Kath, Shaker Hts, OH, December 2013 (Africa, Great Migration)
———————————————————————————
"Wonderful, slide show on Africa. Thank you for sharing with us!" Holly Fitzerald, Avon Lake, OH, December 2013 (Africa, Great Migration)
———————————————————————————-
"Photos, lecture …were all great!  Thanks Irene and Alex!" Sandra and Ivan Kramer, Shaker Hts, OH, December 2013 (Africa, Great Migration)
———————————————————————————
"We had a super time enjoying your lecture!" Bob Haynie, Shaker Hts, OH, December 2013 (Africa, Great Migration)
———————————————————————————
I owe you for the wonderful lecture, In Search of a Jewish Story in China, and great Sunday I had. All kind of "Jewish stories" are the point of my interest now. I will highly recommend you and your tours. Alla Abrukin, Long Island, NY, December 2013.
——————————————————————————————–"The lecture was reach and interesting and we amazingly enjoyed the charming presentation. I can see that you are very invested into what you are doing, and it brings the harvest. For me personally is so important to know that I am Jewish (just "China's way" :)). Seriously, we've learned a lot from your amazing presentation." Laura Seymor, New Jersey, December 1st Jewish Story of China.
——————————————————————————————–Go behind the scenes of China and Nepal with this engrossing travelogue. You will see places and meet people not encountered by the casual travel, and learn about the Jews of China. Who knew? Ivan & Sandra Kramer, Shaker Heights, Ohio, December 2012.
——————————————————————————————–Having been fascinated by India since reading M.M. Kaye's The Far Pavilions years ago, I was captivated by this in-depth look at India today, replete with historical background and gorgeous photographs. This was informational for both potential travelers, and arm chair travelers alike. Ivan & Sandra Kramer, Shaker Heights, Ohio, July 2011.
——————————————————————————————–"You convinced me that India should be a destination… You captured its complex multi-layered and exquisitely rich texture – providing a next best thing…"  Vondell  Petry, Cleveland Heights, Ohio, June 2011.
——————————————————————————————–"On June 18th, 2011 my wife and I had attended "Peeling the Onion: Discover India and Yourself" presentation by Irene and Alex. The presenters have well-articulated the subject with professional slides complementing the event. It was a great experience for us. Irene was so good in presenting her and Alex Travel experience to India, that at some point I felt, that I am actually traveling with this people. Variety of food from the places of voyage was another example of how well the whole event has been thought-out. It was indeed extraordinary experience."  Dmitry Shuster. Cleveland, Ohio, June 2011.
——————————————————————————————–"We have been thinking about going to India for a while reading books and searching useful information on web. We visualized our future plan and felt strong about it…until we met Irene and Alex. We happened to stopped by our former coworker in nearby town and found our self in a group of people who gathered for an interesting occasion…a presentation given by their friends from Cleveland about… Guess what…their recent trip to India. We were surprised but quickly found ourselves immersed into a mesmerized Journey in an unknown world. Our vision of India has changed quickly as Irene invited us to follow them… and the time stopped for us…
What surprised us at most was the fact that they had done such an incredible tour in about two weeks, scrupulously planning every hour of their time. The scope of their interest covered astonishing history and enchanting Indian culture along with the spirituality breathing from the magnificent towers of Taj Mahal or harboring under dilapidated roof of a hut in one of the neighboring slams. We realized quickly how wonderful would be to follow these people who kindly shared with us the art of travel along with the knowledge everyone would certainly appreciate."  Simon and Rachel Matthews, Edgewater, NJ, May 2011.
——————————————————————————————–My husband and I attended two slide show/lectures in Cleveland, Ohio.  We watched and listened to the presentations on South Africa (July 2010) and Japan (October 2009).  Right from the start, we were so very impressed with a multitude of things.  The photography was very professional looking and the pictures made us feel as if we were right there with them.  But the most impressive part of the evening was the knowledge that came flowing from Irene and Alex.  The extensive research done before their trip was evident in their presentations.  Not only did we hear about the beauty of the land, they also discussed the culture, religion, architecture, people, and history of the countries they visited.  Alex and Irene totally immersed us in the fruits of their labor and the whole evening was delightful. Barbara and David Bader, Cleveland, Ohio, July 2010.