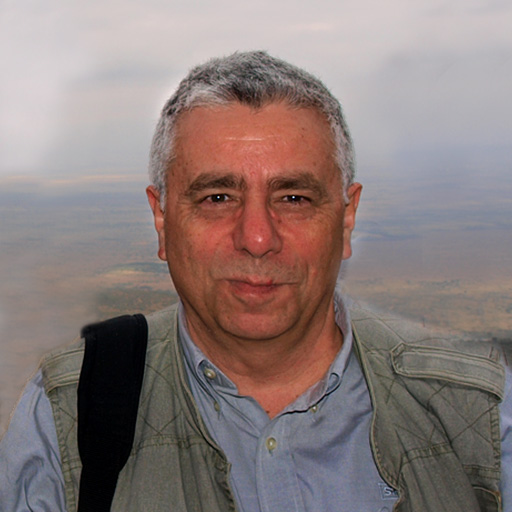 Alex Shaland started his writing career in the 1990s, contributing articles and book chapters for several Penton Publishing periodicals and other publications. In addition to his own writing, he collaborated as an editor and photographer with his wife, Irene Shaland, in producing several books and articles published in numerous magazines in the U.S., Canada, U.K., and East Africa.
Alex's photographs have appeared in over 20 publications and online sources including Holiday Magazine (France/U.K.), The Boston Forward, Tikkun, ZEEK, Diarna Digital Heritage Mapping, Hackwriters (U.K.), IMAGE Magazine, ROMAR Travel, Design World Magazine and other journals printed in the U.S., Canada, U.K., Korea, and Kenya. An award-winning photographer, Alex had several solo photography shows and participated in group exhibitions organized in New York, New Jersey, Michigan, and Ohio.
His new book "Jackie the Penguin goes on Safari" is a children's story of a small South African penguin called Jackie who had a dream of visiting wild animals of Africa and learning about their appearances, behaviors, and characters.
Alex's previous "Suburbanites on Safari" was Shaland's first work devoted exclusively to Africa and African wildlife. In addition to being informative and entertaining, the book aspires to support the effort to preserve and protect the animals with whom we humans share this planet.
Links to Alex Shaland's books on Amazon:
| | | |
| --- | --- | --- |
| Kindle Edition of "Suburbanites on Safari" | Paperback Edition of "Suburbanites on Safari" | Paperback Edition of "Jackie the Penguin on Safari" |
| | | |
Alex and Irene reside in Lyndhurst, Ohio. Visit him at https://globaltravelauthors.com. Send a friend request on Facebook at https://www.facebook.com/alex.shaland.
What Alex Shaland's Book "Jackie the Penguin Goes on Safari: A Story of One Little Penguin who Wanted to Meet the Wild Animals of Africa" is About
This is a story of a small South African penguin called Jackie who had a dream of visiting wild animals of Africa and learning about their appearances, behaviors, and characters. However, being a bird who could not fly, Jackie was terrified to meet the big, scary, and possibly dangerous inhabitants of the African savannah. So, his wish remained just a dream. But one day, Jackie's life changed when he met and instantly became friends with two world travelers, Irene and Alex, who were on their way to an African safari.
In this book, filled with bright color pictures and vivid descriptions of African wildlife, kids will learn how relying on true friends helped Jackie to overcome his fears and anxieties and realize the dream of his life.
Read more about Alex's book:
What Alex Shaland's Book "Suburbanites on Safari" is About
Four friends, all big-city dwellers, embark on their first African safari. An internationally published travel writer and her husband, an award-winning travel photographer, are joined by their life-long friends on a journey to South Africa and Zimbabwe. Previously, their exploration of over 60 countries took them to big cities and historical monuments around the globe. But this trip is different.
Traveling around Kruger National Park and Victoria Falls, they crisscross the bush and meet African wildlife in its natural habitat. Which predators, grass eaters, branch nibblers, and birds of prey did they find? What did the animals do in the presence of people? How did it feel to be only a few feet away from a pride of lions devouring their kill, a herd of suspicious elephants, an intimidating Cape buffalo, or an unpredictable rhinoceros?
In an easy to read, conversational style, the author, Alex Shaland, delivers a fair mix of wildlife photography, animal and bird factual data, and practical information. Shaland shares his experiences as a first-time safari explorer and sprinkles the narrative with a good dose of humor and personal stories.
If a trip to Africa is in your plans, this entertaining and informative book, jam-packed with photos of animals and birds, will help you make the first step on the way to your dream. If you are interested in wildlife, nature, and animal protection, the story will enrich your knowledge of the animal kingdom. At the very least, it is just fun to read.
What People Say About Alex Shaland's Book "Suburbanites on Safari"
"Alex Shaland has written an excellent book that will be your companion on the next South African safari. There are beautiful descriptions of mammals, birds and reptiles based on real first hand experiences." –Bob Bartolotta, former educator and field guide, The Cleveland Museum of Natural History.
"An amazing real life perspective that has been delightfully shared. Funny and witty. Footsteps well worth following." –Philip Coetzee, South Africa, Advanced Nature Guide, Ornithological and Culture Guide, Guide Trainer and Assessor, author of Birds for Beginners.
"Alex's book is a fascinating intro to Safari choice criteria, it is also easy light reading and simplistic in its aim to assist those that may travel often, but not au fait with Safari lingo. It adequately gives a heads up on what needs to be considered in an almost entertaining way." –Nic Griffin, Chief Executive, The Thornybush Luxury Game Lodge Collection.
"Alex Shaland's book appeals to a wide range of readers. With a masterful mix of genres, Suburbanites on Safari offers a catchy narrative, a good amount of valuable travel information, humorous personal stories, and comprehensive description of the animal inhabitants of South Africa and Zimbabwe. The very first pages are bound to whet the readers' appetite for the magic world of Africa. Beautifully illustrated with the author's photos, the stories make the reader feel like truly meeting the animals of Africa face-to-face. Animal lovers and nature buffs, experienced global-trotters and arm-chair travelers, anyone who nourishes the idea of taking a journey to Africa, will inevitably fall under the spell of the book." –Sophie Muchnik, Skokie Public Library.
"Alex Shaland has written a delightful and exciting book, a must-read for the first-time safari traveler.  In a light and conversational style, the writer/photographer details his first safari, an adventure undertaken with his travel writer wife and a couple of long-time friends.  Sprinkled with humorous personal stories, the book encompasses the planning stages of the safari, including numerous worthwhile pointers on pitfalls to avoid when planning, booking, and organizing such a trip.  The actual account of the safari is combined with informative background on the animals encountered by the group.  Last but not least there are beautiful photographs that will make you feel you are there, enjoying a safari from your armchair!"  –Sandra Kramer, Attorney and travel enthusiast.
Read more about Alex's book:
Find out more about Alex Shaland: go to alexshalandbooks.com
Connect with Alex on Facebook
Enjoy Alex's photos from around the world on Instagram