Scandinavia through the Eyes of a Jewish Traveler
Lecture presented by art and travel writer Irene Shaland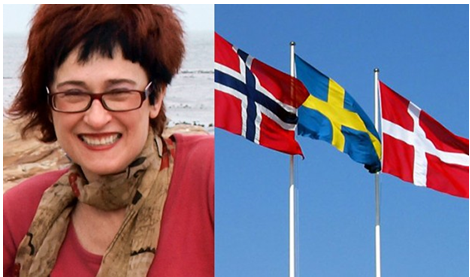 Join internationally published art and travel writer Irene Shaland as she takes you through Norway, Sweden and Denmark, three countries known for their stunning natural beauty, magnificent royal capitals and stark modern architecture. Explore the Jewish history of these countries and understand what it means to live as a Jew in Scandinavia today. (Shaland also discusses how she sees technology and social media spreading anti-Semitism throughout the countries that, for most of the 20th century, personified tolerance, freedom and inclusion.)
Download this flyer as pdf: Download Scandinavia lecture flyer
If you would like to attend this lecture, please check our Lecture Schedule.
If your organization would like to host this lecture, please contact us to discuss the arrangement.
To find out what people say about our lectures please read Lecture Comments.
[Return to Lectures]   [Go to Lecture Schedule]   [Send us an e-mail]