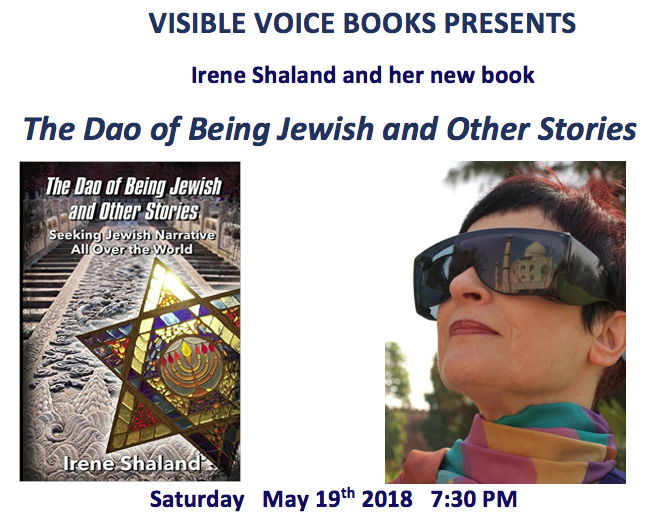 Book Event at Visible Voice Books:   Irene Shaland and her new book 
The Dao of Being Jewish and Other Stories
   Saturday   May 19th 2018   7:30 PM
 Limited seating.  Advance registrations strongly suggested. Call 216-961-0084 to register.
"For the student of Jewish history … and for the curious traveler in all of us, this book is required reading; a must-have on every bookshelf." Corinne Brown, Editor-in-Chief, HaLapid Magazine, 2016.
An internationally-published writer, Irene Shaland introduces her latest book The Dao of Being Jewish.  She shares her "Stories Behind the Stories" inviting you to embark on a fascinating journey, both familiar and unknown. While traveling from Europe to Asia and Africa, from Vienna to Delhi and Nairobi, you are immersed into a collective Jewish narrative from all parts of the globe. Whether you hear Irene's Polish family Holocaust narrative or discover two-millennium old tales of little-known Jewish communities of India and China, who never knew religious persecution – these stories strive to preserve Jewish heritage, identity, memory, and history. Because we are the stories we tell to ourselves, to others, and to the world.
For more on Irene, visit her website: http://globaltravelauthors.com
Visible Voice Books 2258 Professor Avenue, Cleveland OH 44113 Tel. 216-961-0084