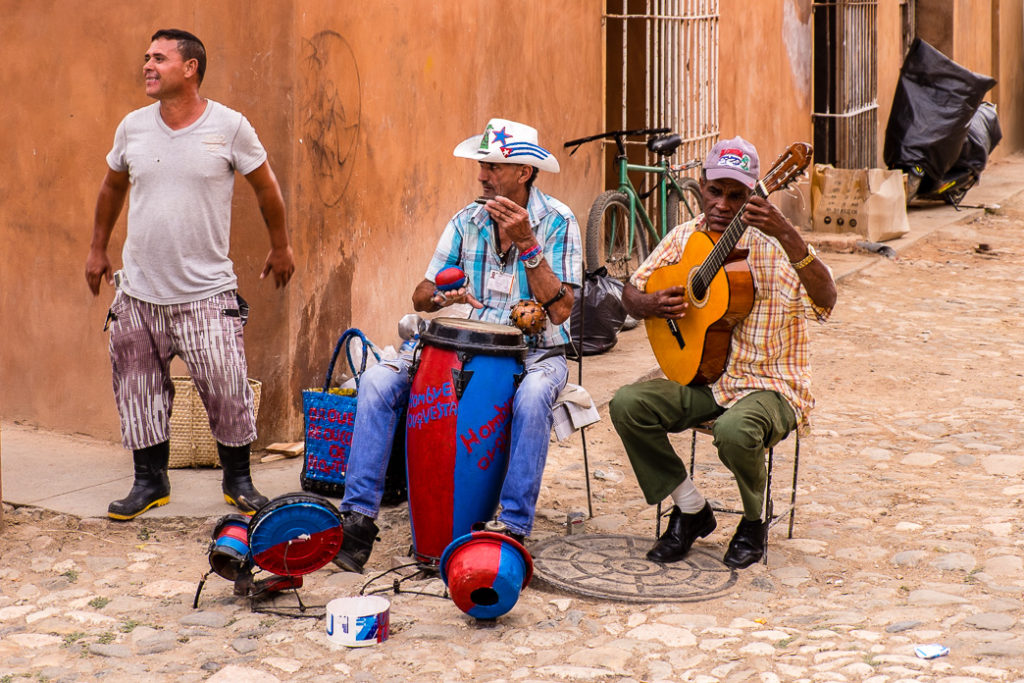 Irene Shaland Presents her Lecture, Cuba: the Land, the People, the Arts – 60 years after Castro's Revolution at the AAWR on November 18 at 1 PM
When:  Saturday            November 18th 2017                       1:00 PM
Where:  AAWR 1834 East  123rd Street  Cleveland OH 44106
Cuba defies conventional thinking: with half the land and people of the whole Caribbean, it seems more of a continent than an island. At the crossroads of the Western hemisphere for over 500 years, 20th century Cuba became a country where the clocks stopped for many decades. Its recent troubled history presents a story of brutal oppression and deprivation, but which is at the same time intriguing and fascinating.
From the hot music clubs to Che Guevara murals, sensuality and socialism rub shoulders in Cuba's great cities; and the newly-allowed art galleries display cutting-edge paintings and sculptures that might make New York or Santa Fe envious.  Dilapidated mansions neglected for decades stand side-by-side with beautiful newly renovated colonial, art nouveau and art deco buildings.
Take a journey with internationally published art and travel writer Irene Shaland to rediscover this island against the background of its 500 plus year history.
Travel from Santiago to Havana, from Cienfuegos to Trinidad – to learn how Cuba is finding its way back to the future.
Presented in conjunction with the AAWR exhibit of Augusto C. Bordelois.
 AAWR 1834 East  123rd Street  Cleveland OH 44106
Exploring Thailand away from the tourist crowds
Bangkok
Thai Theater
To all theater lovers, I always recommend not to be missed  "real" performance when in Bangkok, and by real I mean those that are shown to non-tourists, outside of buses brining crowds for a mediocre dinner and Thai Dance-"light." And for that, one should head to the National Theater http://www.finearts.go.th/  (very close to the National Museum) and see, preferably, the Siam Niramit performance, perhaps the most elaborate and "largest stage show in the world." It is definitely one of the most amazing and intriguing. But any traditional Thai dance shows would do, though I always prefer Khon dancers https://www.youtube.com/watch?v=-OWBs48qUuA.
A Very Very Unusual Museum: Samut Prakan's Erawan Museum
It is a bit outside the city but easy to get to by a cab. It is really worth the experience because you go inside that gigantic three-headed elephant. What you see defies any comprehension and collector's logic: inside the elephant's belly and beneath it there are levels that symbolize the Thai cosmos, filled with an amazing fusion of incredible Eastern antics collected by late business tycoon Lek Viriyapant. The  collection of ceramics is equally amazing. The gardens are great too. http://bangkokforvisitors.com/museums/erawan-museum/index.php
For those who LOVE airplanes…
We did not go there and I think Alex still regrets it: Thai Royal Airforce Museum http://www.bangkok.com/magazine/air-force-museum.htm
I do not remember the restaurants , but everything we ate was terrific. We had a friend who was at that time a head of the UN office stationed in Bangkok, and we followed her restaurant suggestions. My criteria always is to stay away from tourists places and eat where I can really understand or begin my journey to understanding local culture, because I do believe we are what we eat!
Chiang Mai
In the City of 300 Temples…one should meet with monks…
Silver Temple
For some reason, visitors get hooked on trekking through the jungle and going to markets and shopping (and I am all for that too! We did shop our way through Thailand and bought great artifacts and very nice clothes; we even did some trekking on elephants)   Many forget they are in the capital of the ancient Lanna Kingdom.
In the silversmith district of the old town there is a remarkable architectural find: a temple made from silver! Called Wat Srisuphan, it is not visited by many outsiders. I hope that they still offer "Monk Chats." In our time, the chats were on Tuesdays and Thursdays. You do need a translator (a guide) to go with you.  But this is a great way to learn about Theravada ("a way of the ancients") Buddhism, the purest and the strictest form of Buddhism.
Beware of tourists visiting the Temples of Chiang Mai…
For there are sooo many of them, bus load after bus load and all of them want to do it fast and furious and go shopping right after: they climb the steps and take pictures and you feel like you are in a NYC subway during rush hour. Do not miss the highlights though that your guide undoubtedly will be showing you BUT ask him/her to bring you to Wat Umong which is a very quiet temple complex, located in the foothills of Suthep Mountain. Umong means tunnel in Thai; you walk through these tunnels, you discover shrines and hidden altars, and the shadows are cast not by crowds but by giant trees and moss-covered walls. The lake is nearby and you can feed the birds there if you brought some bread from your hotel.
Many recommended a restaurant called…
Dash Teak House http://dashteakhouse.com/
I heard about it from friends whose taste I trust! (and I wrote it down for future visits). They serve you a traditional Lanna-style meal. I think it is a modern take on tradition but should be great because the owner (a native from Chiang Mai)  worked many years (and studied) in the US and is a certified Le Cordon Bleu cook.
Visit a Hill Tribe village
But please do ask your guide to take you to an authentic experience. For example, the little town Baan Ton Lung will be charming and amazing at the same time: it is inhabited by the Lisu people who came from Tibet.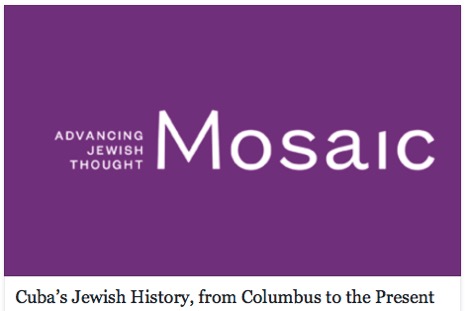 Irene Shaland's Cuba article  The Island within an Island: The Cuban Jewish Story of Survival was published on August 22nd by the Sephardi Ideas Monthly, a magazine of the American Sephardic Federation and Center for Jewish History Research of New York. On August 23rd, the essay was also published by the Mosaic, a magazine dedicated to advancing philosophical discussions related to Jewish history and Judaism. See the excerpts below:
Read more Jewish history stories in Irene Shaland's latest book: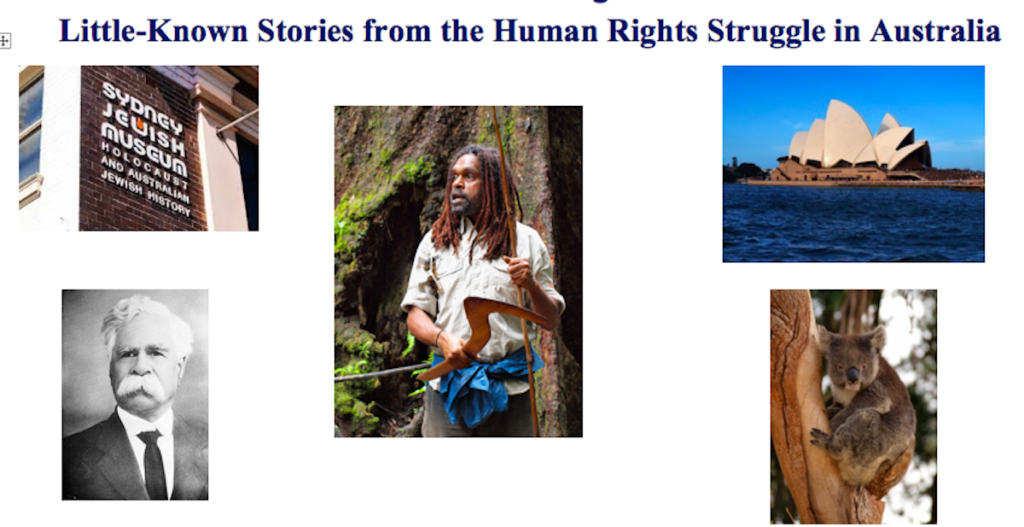 Maltz Museum of Jewish Heritage presents Irene Shaland's lecture: "Jews and Aborigines: Little-Known Stories from the Human Rights Struggle in Australia"
Wednesday              May 24th                        7:00 PM
Cost: $12 general; $6 Maltz Museum members. Limited seating. Call 216.593.0575 to register.
In early December 1938 a delegation of Aboriginal people walked from Footstray township to Melbourne in Australian state of Victoria. This was not a protest against a State or Federal government in defense of Aborigines. It was a brave action in defense of …the Jews of Europe. In front of the Germany Consulate in downtown Melbourne the delegation demanded the Nazis to stop "cruel persecution of the Jewish people." The leader was William Cooper, a founder of the Australian Aboriginal League and an unsung hero of the Aboriginal human rights struggle in his country, where he and his people had no legal rights and until 1967 were officially classified as an equivalent of "flora and fauna."  What inspired Cooper to speak in defense of the Jews from faraway Europe?
Cooper's own country maintained the "White Australia Polices" and considered Jews, though not classified as "colored," to be "others" who should not be allowed entrance visas. How did Australia become the country that opened its doors to numerous refugees from Europe, second only to Israel by the ratio of the Holocaust survivors to its population? Was it a coincidence that the Australian Jews stepped into the forefront of the struggle for Aboriginal rights in defense of the indigenous Australians?
Travel with Irene Shaland to Australia to understand the land and its people and to learn about human rights history in this country.
Maltz Museum 2929 Richmond Road, Beachwood Ohio
Download lecture flyer: May 24_2017_Australia_HumanRights
New City Library Presents Irene Shaland's Lecture Stones Fill the Void: Visiting the Murdered Jews of Vienna
Sunday   May 7th  2:00 PM.  Advance registrations required. Call 845.634.4997 to register.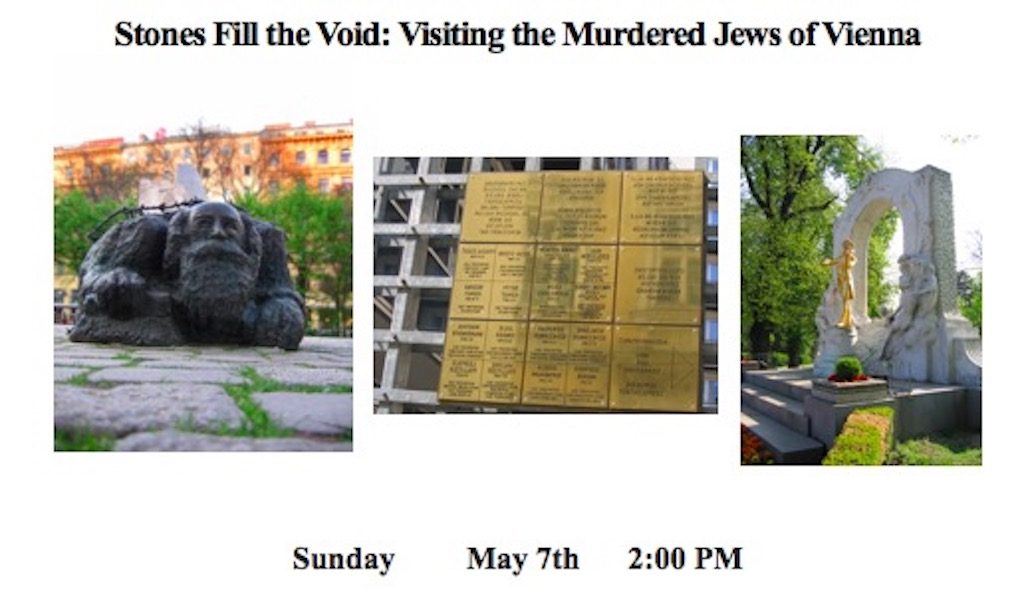 We will journey through 2,000 years of Jewish history in Austria and Vienna, from the Roman times and Middle Ages, to the Enlightenment and Fin de siècle. We discuss distinguished contributions the Jews of Vienna made to the creation of that city's great culture: from music to medicine, from arts to philosophy. Then we travel from Vienna of the Waltzes to Vienna of the Dead: from Habsburg palaces to Leopoldstadt, a former neighborhood of vibrant Jewish life turned into a ghetto after the Anschluss. We will follow the "Stepping Stones," the brass plates with names of the victims and learn their stories along with a peculiar Austrian response to the Holocaust. 
Irene will introduce her latest book "The Dao of Being Jewish and Other Stories: Seeking Jewish Narrative All Over the World." The book signing follows the presentation.
New City Library 220 N. Main Street, New City, New York
Posted in

Europe, General, History, Holocaust, Jewish Story
Tagged

anti-semitism, antisemitism, Europe, Europe history, lecture, trip to Europe, Vienna, WWII
Leave a comment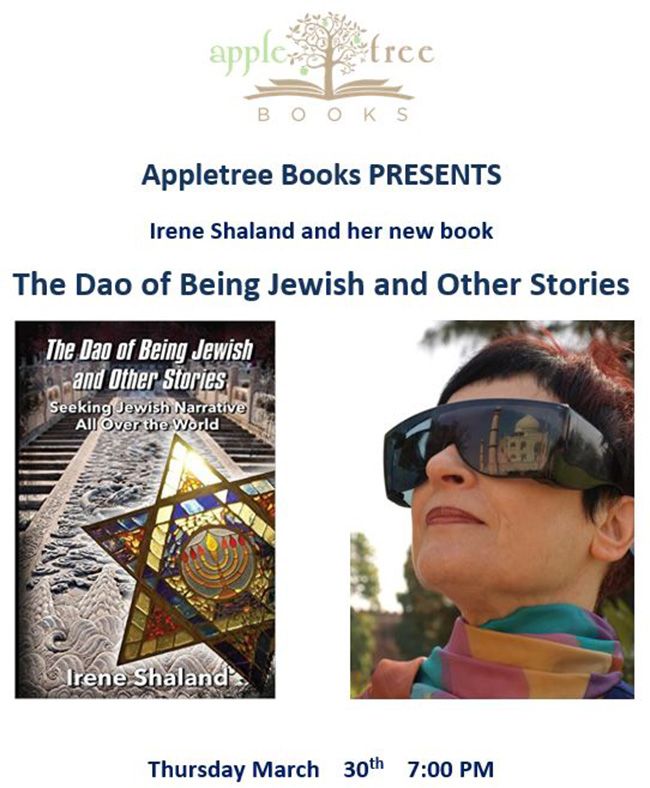 Book Event Date and Time:  Thursday March 30th 7:00 PM
Book Event Location: Appletree Books 12419 Cedar at Fairmount Cleveland Hts. OH 44106 216.791.2665
Limited seating. Advance registrations strongly suggested. Call 216.791.2665 to register.
An internationally-published Cleveland-based writer, Irene Shaland introduces her latest, recently-released book The Dao of Being Jewish. She shares her "Stories Behind the Stories" inviting you to embark on a fascinating journey, both familiar and unknown. While traveling from Europe to Asia and Africa, from Vienna to Delhi and Nairobi, you are immersed into a collective Jewish narrative from all parts of the globe. Whether you hear Irene's Polish family Holocaust narrative or discover two-millennium old tales of little-known Jewish communities of India and China, who never knew religious persecution – these stories are us, our way of preserving our heritage, identity, memory, and history. Because we are the stories we tell to ourselves, to others, and to the world.
About the Book: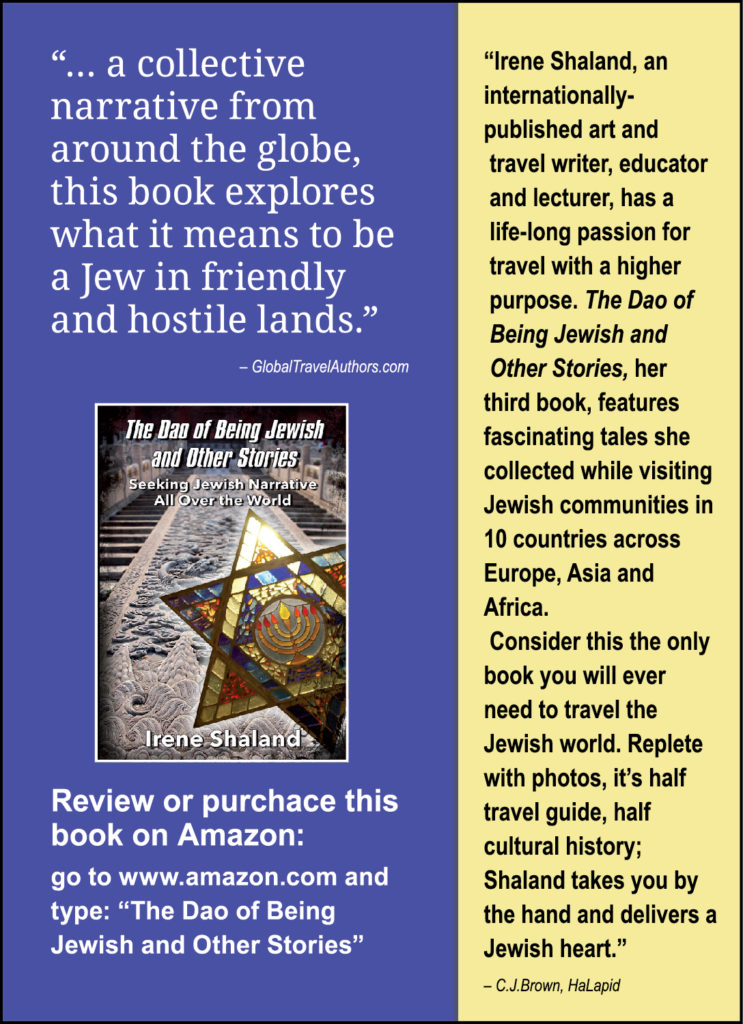 Review this book on Amazon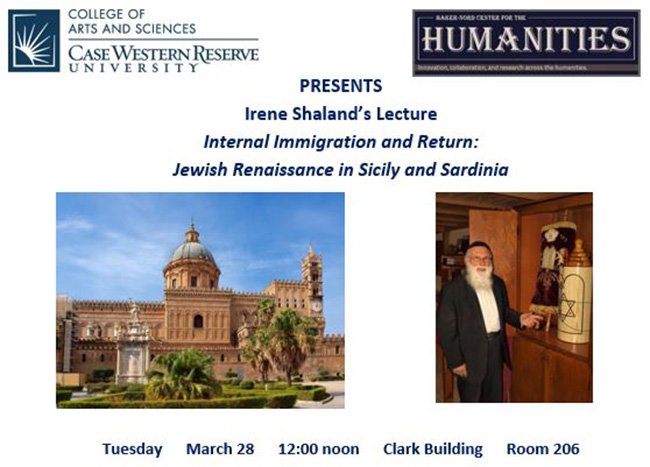 The infamous 1492 Edict of Expulsion of the Jews forced close to 500,000 people into exile from Sicily. Many had to leave their home country where they lived for centuries, but still many, with nowhere to go, were pressured into conversion and into what became their "internal immigration."
Travel with Irene Shaland to the islands of Sicily and Sardinia that present a fascinating chapter in both, the history of immigration and the history of Jewish Diaspora. Discover a world of little-known Jewish narrative: centuries marked by fear and secrets, decades filled with the search for one's identity, and courage to defy conventions by reinventing oneself. These are the stories of B'nei Anousim, or "children of the forced ones" from the South of Italy. The elimination of institutional Judaism by the Edict and the Inquisition did not mean the end of Judaism itself. The destruction of synagogues and the burning of "Judaizes" five centuries ago forced the Jews of Sicily and Sardinia to "immigrate internally": take their traditions into the cellars of their homes where the memories and stories were kept alive, even when descendants forgot their exact meaning. And now, the number of those with a "call of blood," who think they have Jewish ancestry and want to learn more about it, or even embrace their newly-discovered heritage, is on the rise throughout these islands. Let the story of the Anousim lead you into the world of hope: the cultural and spiritual reawakening-and-return.
Irene will also introduce her latest book The Dao of being Jewish and Other Stories: Seeking Jewish Narrative all Over the World. Book signing follows the presentation.
Limited seating. Advance registrations strongly suggested. Call 216.368.2242 to register.
Download Lecture Flyer: CWRU_CHF_Sicily_March_28_2017
Posted in

Europe, General, History, Italy, Jewish Story, Lecture
Tagged

christian, christianity, christianity history, conversion, Italy, Jew, jewish, Jewish life, Sardinia, Sicily
Leave a comment
Posted in

Africa, Asia, Books, History, Holocaust, Italy, Jewish Story, Scandinavia
Tagged

Africa, Asia, book, Europe, Europe history, Jew, jewish
Leave a comment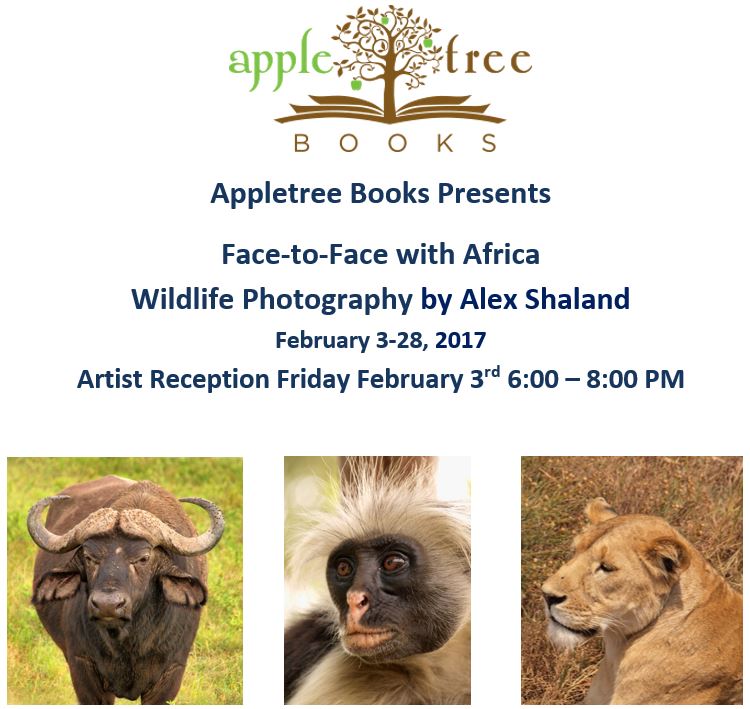 Internationally-published photographer Alex Shaland has a life-long passion for travel. Together with his wife, travel writer Irene Shaland, they have explored close to 70 countries. His photographs have appeared in more than twenty magazines published in the USA, Canada, UK, France, Kenya, and South Korea. This wildlife photography exhibit takes you to South Africa, Kenya, and Tanzania.
Through his photographs, Alex shares his excitement and love for our beautiful world.
Apple Tree Books
12419 Cedar at Fairmount
Cleveland Hts. OH 44106,     216.791.2665
See more photos in Alex's photo gallery: Photo Gallery
See full schedule of our lectures and photography exhibits: Schedule
Read our travel blogs: blogs
Posted in

Africa, Art and Artists, Books, General, Travel Photography
Tagged

Africa, African, African safari, bookstore, photo, photography, vacation
Leave a comment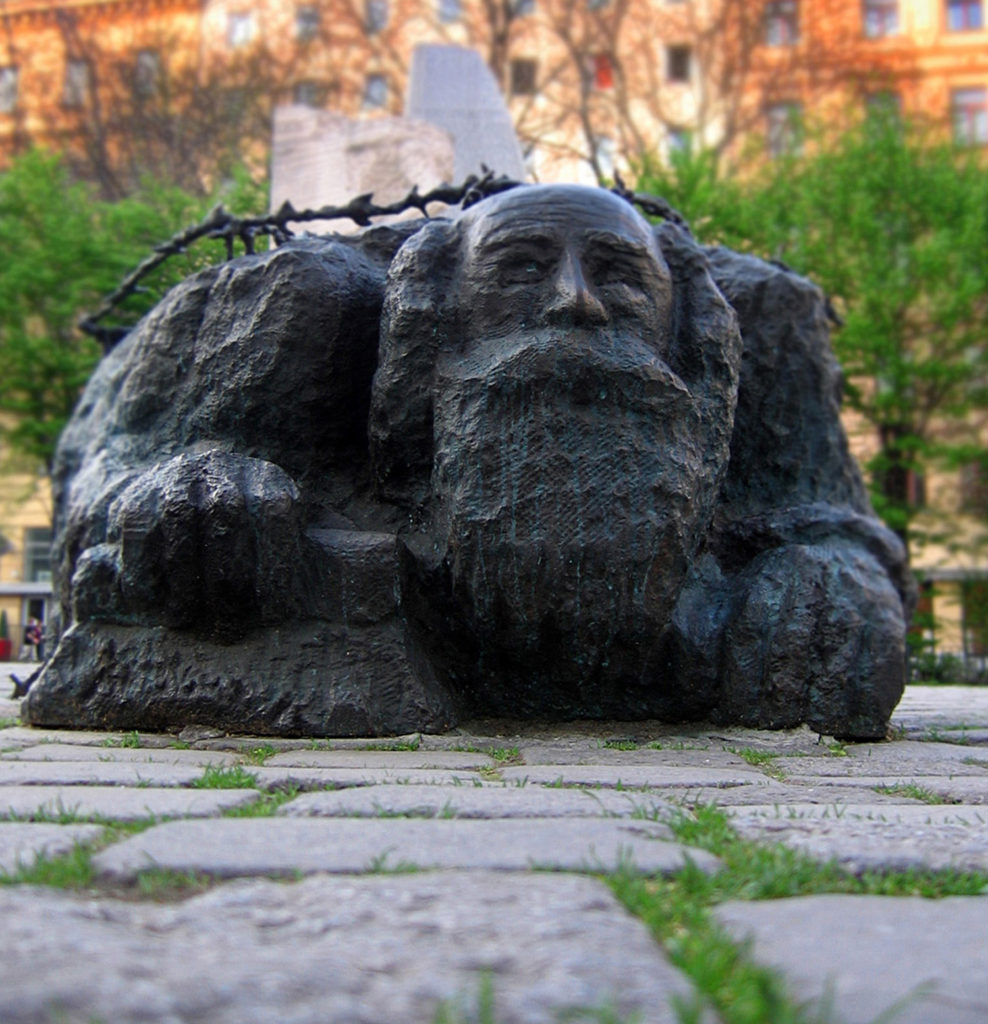 Don't look for the Steinedererinnerung in your guidebook: the murdered Jews of Austria have neither a Rick Steves nor a Frommer. And Vienna, basking in its Baroque and Art Nouveau splendor, would rather have you waltzing from Schonbrunn palace to Sachertorte's shops instead of searching out the synagogues and homes of long-gone Jews. An Austrian sarcastic proverb, as noted by Magrit Reiter in her conference presentation "Antisemitism in Austria after the Shoa," declares that Germans were the "better Nazis," while Austrians were definitely the "better anti-Semites."
The Holocaust victims' destiny was, for the most part, determined by three key factors: the degree of control the Nazis had in the region, the history of Jews there, and the actions of the locals. The latter is where the Viennese truly excelled. Austrian inventiveness and viciousness quickly turned the city of Mahler and Freud into the city of "Hitler's willing executioners," using the title of the famous book written by Daniel Goldhagen. In this controversial study, Goldhagen argued that virulent "eliminationist antisemitism" was the cornerstone of German national identity. Austrians, in their zeal to eliminate their Jewish countrymen, managed to surprise even the Germans.
Vienna was by no means the only European city where the "final solution" had been successfully carried out. However, the delight the Viennese took in humiliating, torturing, and killing their Jewish neighbors was truly extraordinary. In that 1938 photograph I mentioned, the people in the laughing crowd taking such a delight in humiliating a Jew, were the very ones (or their parents) who elected the rabidly anti-Semitic Karl Lueger as a mayor of Vienna five times between 1897 and 1910. Hitler adored Lueger and considered the Viennese mayor to be a major influence on shaping his views on race.
According to the Austrian Jewish Community statistics, in 1938, 206,000 persons of Jewish decent had been living in the Austrian capital; one out of ten Viennese residents was Jewish. Less than 2,000 survived the camps. Practically no one returned. The flourishing Jewish community of Austria was all but obliterated during World War II. At first, Austrian Jews were lucky: unlike Germany, Austria had exit avenues open for a while and almost two thirds of the country's Jews left. Those who stayed died wretched deaths at places like Theresienstadt and Auschwitz. One Vienna resident, Sigmund Freud, went to London with his family; his two elderly sisters stayed and perished.
After the war, Austria's official position was that the country had been the very first victim of the Nazis' aggression. Austria had no Nuremberg-like trials for crimes against humanity, and this fictional claim went unchallenged for many decades.
Continue reading "The Dao of Being Jewish and Other Stories" currently available on Amazon:
Check out Paperback Edition
Check out Kindle Edition
Posted in

Books, Europe, General, History, Holocaust, Jewish Story
Tagged

Austria, history, history of the holocaust, Holocaust, Irene Shaland, jewish, jews, shaland, Vienna
Leave a comment