If you missed Part one of this post click here Part One
When you make an appointment at your medical system's Travel Clinic before your trip to Brazil, they always ask you when and what country are you going.
Before you come, they prepare the packet for you with all the info and they look for guidelines of what is required. The doctor looks for recommendations issued by the US Center for Disease Control (CDC) and Prevention: https://wwwnc.cdc.gov/travel/destinations/traveler/none/brazil
(Click this link to see for yourself)
It is highly advisable to go, if possible, to a facility that uses the same system where your doctors are and where your records stored. Then, the system, such as for example EPIC, will show the information that you might not remember. Travel Clinics "live" within Infectious Diseases Departments. So, if you do not see travel clinic listed as a separate entity, call Infectious Diseases.
However, you are right: it is good to be prepared. They might not know that you are not up-to-date on Tetanus for example but you do need it.
First priority
Tetanus
Yellow fever
Hepatitis A
Prescriptions for Malarone (if you are going to the jungle area) and for a broad action antibiotic.
Suggested Reading
Hello my fellow-travelers,
If Brazil is in your travel plans, you might find this information helpful. Alex and I are going to Brazil in November of this year, so we decided to get our medical preparations out of the way and went to a local Travel Clinic.
We are up-to-date with all requirements: no shots, since all are up-to-date; but we needed two prescriptions for malaria pills (Malarone) and broad action antibiotics. The last one I always take with me no matter where we are going. It is based on Cipro and is a perfect help with anything, be that UTI or diarrhea.
The cost of the visit itself was $53.00 per person. Antibiotic is $6.05; Malarone, 24 pills (start on the 19th, continue while in the jungle area and a week after your return from the Amazon) – is $109.21.
Suggestion: go to the discounted pharmacy like Walmart or something. CVS is almost 25-30% more expensive.
If you do not have Tetanus – you need to do that anyway, no matter where you are going or even not going.
You absolutely need Yellow Fever shots (required and lasts life-time) and – most probably – Typhoid vaccine capsules (advisable and lasts 5 years).

IMPORTANT: Since Yellow Fever shots are in limited availability, do not delay your Travel Clinic visit.
You might not be allowed to enter the country without their certificate.
More to follow next week,
Best,
Irene
Suggested Reading
more

Join Irene Shaland, an internationally-published art and travel writer, educator, and lecturer, for a fascinating talk about her travels through Jewish history in Burma, India, China, Cuba, and Cambodia. Seeking Jewish narrative all over the world, Irene with her husband-photographer Alex, has visited close to 70 countries and shared her experiences with audiences and readers in US, Canada, and Europe.
Reservations Required: call 216.367.4114
Address:Carnegie Investment Council – 30300 Chagrin Blvd, Pepper Pike OH 44124— www.carnegieinvest.com
 Download flyer: SEPT_09_05_Lecture
Check out Irene Shaland's latest book "The Dao of Being Jewish and Other Stories"
Center for Jewish History, NYC presents Irene Shaland's Lecture
TRAVELS IN JEWISH HISTORY
Tuesday  May 29 2018   7:00 PM
If you are interested in Jewish history, join Irene Shaland, an internationally-published art and travel writer, educator, and lecturer, for a fascinating talk about her travels through history of Jewish people in Burma, India, China, Cuba, and Cambodia. Seeking Jewish narrative all over the world, Irene with her husband-photographer Alex, has visited close to 70 countries and shared her experiences with audiences and readers in US, Canada, and Europe.
Location: Center for Jewish History, 15 W 16th St, New York, New York 10011
Reservations Required: https://asftravelsinjewishhistory.brownpapertickets.com/ or call 212.548.4486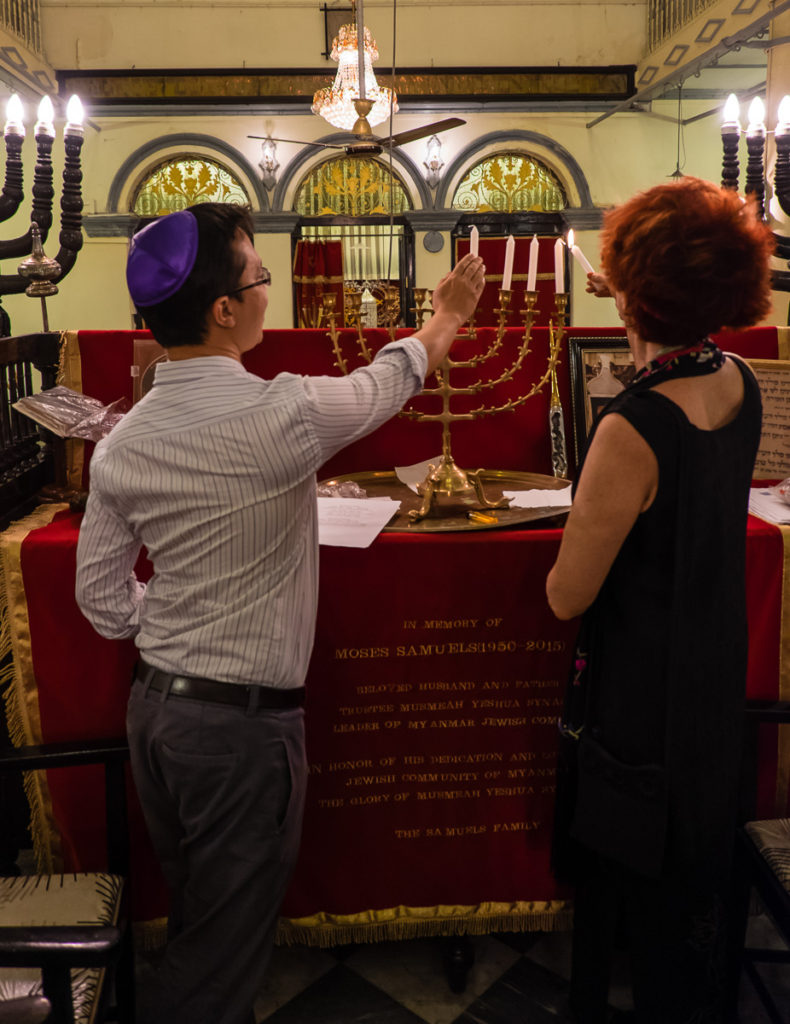 Posted in

Asia, Cuba, General, History, Holocaust, Jewish Story, Lecture, Travel Photography
Tagged

Jew, jewish book, jewish traveler, lecture, Manhattan, New York, NYC, The Dao of Being Jewish
Leave a comment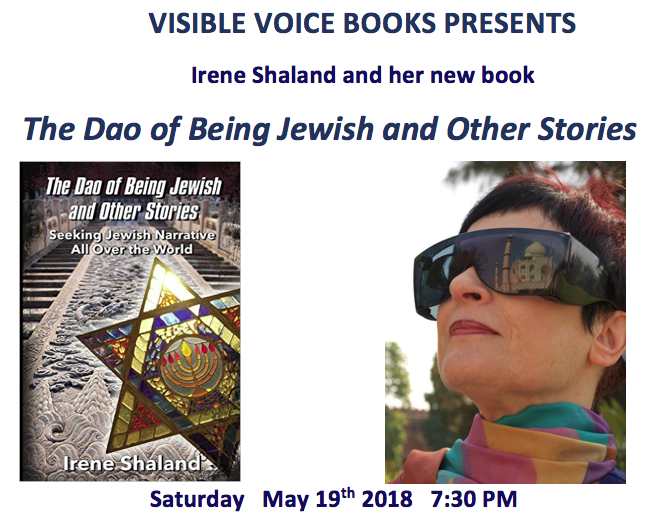 Book Event at Visible Voice Books:   Irene Shaland and her new book 
The Dao of Being Jewish and Other Stories
   Saturday   May 19th 2018   7:30 PM
 Limited seating.  Advance registrations strongly suggested. Call 216-961-0084 to register.
"For the student of Jewish history … and for the curious traveler in all of us, this book is required reading; a must-have on every bookshelf." Corinne Brown, Editor-in-Chief, HaLapid Magazine, 2016.
An internationally-published writer, Irene Shaland introduces her latest book The Dao of Being Jewish.  She shares her "Stories Behind the Stories" inviting you to embark on a fascinating journey, both familiar and unknown. While traveling from Europe to Asia and Africa, from Vienna to Delhi and Nairobi, you are immersed into a collective Jewish narrative from all parts of the globe. Whether you hear Irene's Polish family Holocaust narrative or discover two-millennium old tales of little-known Jewish communities of India and China, who never knew religious persecution – these stories strive to preserve Jewish heritage, identity, memory, and history. Because we are the stories we tell to ourselves, to others, and to the world.
For more on Irene, visit her website: http://globaltravelauthors.com
Visible Voice Books 2258 Professor Avenue, Cleveland OH 44113 Tel. 216-961-0084
Posted in

Books, Europe, General, History, Holocaust, Italy, Jewish Story, Lecture, Scandinavia, Travel Photography
Tagged

book, book event, free event, Irene Shaland, jewish book, jewish books
Leave a comment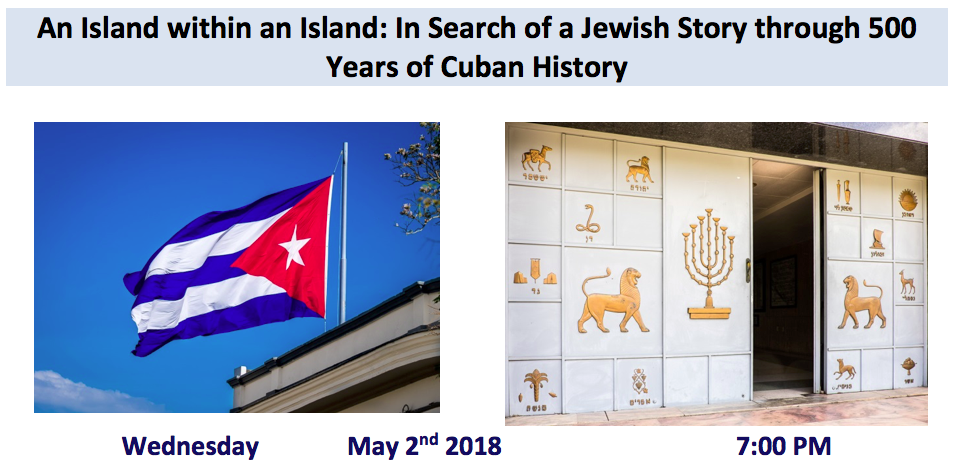 Cost: $12 general; $6 Maltz Museum members. Limited seating. Call 216.593.0575 to register.
The Cuban Jewish story reflects a struggle for survival through assimilation and acculturation.  It is also based on a narrative depicting not a single community but rather a mosaic of several communities that varied greatly in their languages and cultures, and which was built by five distinctly different waves of Crypto-Jewish and Jewish immigrants. The extraordinary characteristic of the Jewish experience in Cuba one finds today is the fundamental sense of community that survived an almost complete dissolution after Castro's revolution, followed by decades of a totalitarian regime with its poverty, deprivation, and strong anti-Israeli attitudes.
The contemporary Cuban Jewish narrative depicts a fascinating trajectory. First, a descent from vibrancy and prosperity to almost oblivion after the mass exodus of the 1960s and direct efforts to destroy the Jewishness during the years of revolutionary atheism. Then, a recent phenomenon: a sudden ascent to becoming a Celebrity of Tropical Diaspora, turning into, arguably, the most visited and photographed of the world's Jewish communities.
Take a journey with internationally published art and travel writer Irene Shaland to rediscover this unique island and to learn how Cuba is finding its way back to the future
Maltz Museum 2929 Richmond Road, Beachwood Ohio 44122
The China Institute and Museum of Jewish Heritage, both of New York, celebrate the Chinese New Year with the Jewish Stories of China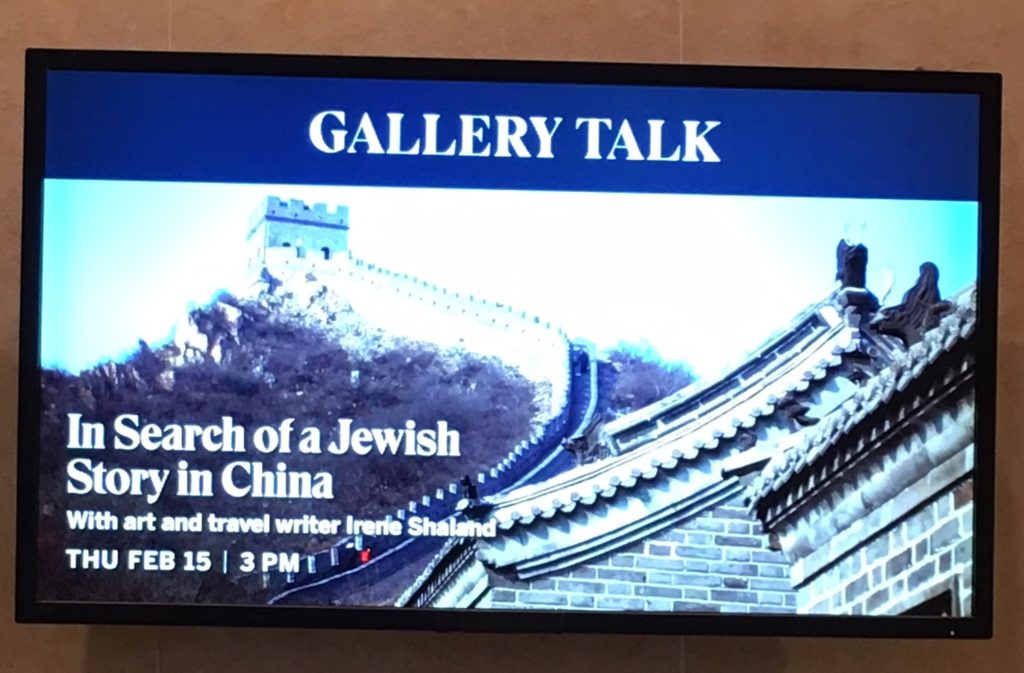 Irene Shaland was invited to present her popular lecture "In Search of a Jewish Story in China" on February 15, 2018 at the Museum of Jewish Heritage, Battery Park, New York. This event, on the eve of the Chinese New Year, was co-sponsored by the Museum and the China Institute.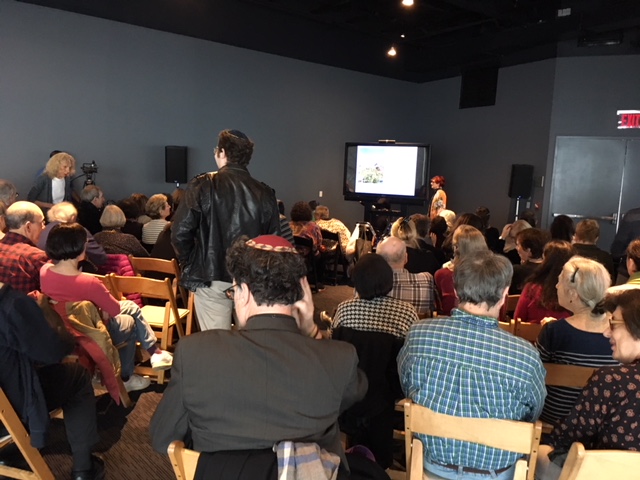 Samantha Hirsch, Producer of Public Programming at the Museum and James Heimowitz, President of the China Institute, addressed the audience prior to the lecture. The event was attended by close to 100 people.
As a writer, Shaland remains ever attuned to what she calls the Jewish story, an often "endless chain of persecutions, from century to century, from country to country." However, in China she uncovered an entirely different chapter in Jewish history, which divides into two stories: the Jews in China and the Jews of China.
Irene talked about the secrets of the Gobi Desert and the Silk Road. She told the story of the most anti-Semitic of Russian Tsars deciding to build the Trans-Siberian Railroad and how it transformed a Chinese fishing village into a "City of Music", and brought Russian-Yiddish culture to China.
What important lessons can we, the Jews of the European and American Diaspora, learn from the Jews of China? Finally, why did the Jews of China disappear? And – did they? The audience was invited to take a journey to China and find out the answers to many perplexing questions.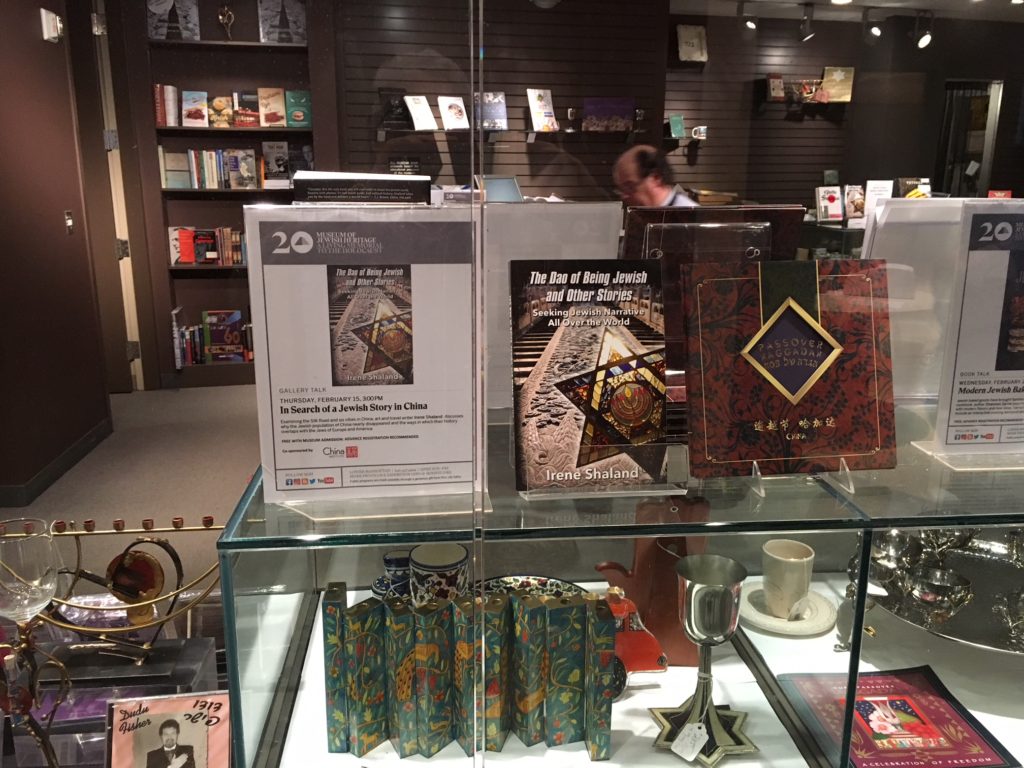 Irene Shaland's book signing followed the lecture. The Dao of Being Jewish and Other Stories was quickly sold out at the Museum store. What could be a better award for an author!
If you did not get a copy of Irene's book at the museum, you can purchase it at Amazon
Posted in

Asia, Books, Broadway, General, History, Lecture
Tagged

China, Chinese history, history of the holocaust, Holocaust, jewish, jewish book, jewish traveler, travel china
Leave a comment
Choosing Your Hotel in Denmark Capital Copenhagen
If you are going to take some one-day trips, you might want to stay, like we did, near the train station. I suggest a small gem of a hotel: Axel Guldsmeden. It is a masterpiece of organic sustainability in everything from their beds and showers to afternoon/evening teas. Plus, it is super easy to get to and from the train station and to all places in the city: https://guldsmedenhotels.com/axel-hotel-copenhagen-vesterbro/.
The breakfast there was very nice and the staff was super-helpful in everything. If you are flying to Denmark, this is how you'd get to the Hotel from the airport (sent to me by the staff): You can take a train directly from terminal 3 to Københavns Hovedbanegård (Copenhagen Central Station) and from Københavns Hovedbanegård it is a short walk to our hotel. Travel time: about 20 minutes. Remember to buy the ticket before you board the train. You need a 3 zone ticket.
When you arrive at Københavns Hovedbanegård exit through the main entrance. Walk straight ahead and when you reach Vesterbrogade turn left. Helgolandsgade will appear on your left hand side and you will find Axel Hotel Guldsmeden at: Helgolandsgade 7-11
One Day Trips – Not to Be Missed.
If you are restricted in time and can dedicate only one day for side trips, try to do cover these two most important places (in my mind) in Denmark outside the country capital city from an historical and aesthetic/artistic perspective): Roskilde (their first capital and the place for the unique Viking ships and Kronberg, the fictional home of the most famous Royal – Prince Hamlet.
Roskilde: Denmark's roots, both Viking and Royal, are on display here (18 mi West of Copenhagen).
The core of the Viking Ship Museum at Roskilde is the remains of five Viking ships deliberately buried there 1,000 years ago.
After visiting both the Cathedral and the Viking Museum, return to Copenhagen, change trains and go to Kronberg.
The city itself.
Visit the Royal Palaces and their Museums, among which I consider the Rosenborg the most interesting. Do not miss everything connected to Christian the Fifth!
Not-to-be-Missed: Glyptoteck; National Museum, especially their Viking exhibit; and of course incredible "architecture as a story" Daniel Libeskind's Jewish Museum that is designed as the Hebrew word Mitzvah. You really are inside the WORD there.
Restaurants
My suggestions, if you want to experience the best of new Nordic Cuisine, make your reservations ASAP.
Lunch only – historic and world-famous Schonnemanns (1877), Best smorrebrod ever. Highest quality, great flavors and fantastic use of organic local ingredients. http://www.restaurantschonnemann.dk/?ulang=2
Dinner
Noma http://noma.dk/. For many years, it was officially considered the best in the world!
Reservations: http://noma.dk/reservations/
If you won't get there; try the Standard in Nyhavn (New Harbor district): we loved it as well. http://thestandardcph.dk/
Everything in Scandinavia is very expensive (but a bit lower than in Iceland). But it is all worth it!
SUGGESTED READING
Posted in

Europe, General, Scandinavia, Travel Tips
Tagged

Axel Guldsmeden hotel, Copenhagen, Denmark, Glyptoteck, hotels, Kronberg, New Harbor in Copenhagen, Nyhavn in Copenhagen, Roskilde, Royal Palace in Copenhagen, scandinavia, Schonnemanns, Viking Ship Museum, Viking Ship Museum at Roskilde
Leave a comment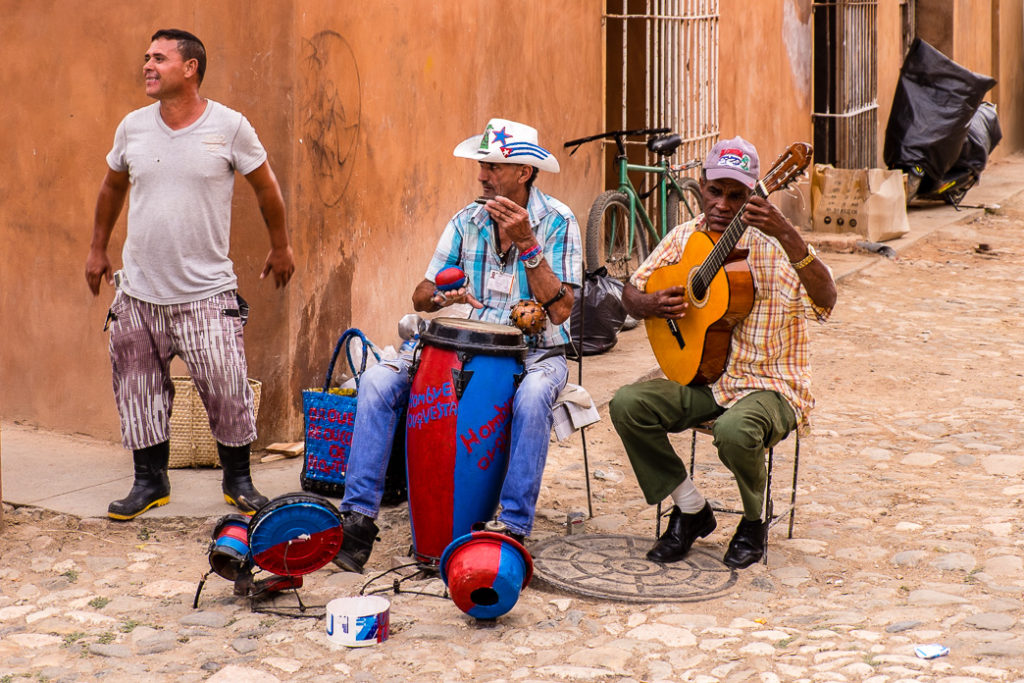 Irene Shaland Presents her Lecture, Cuba: the Land, the People, the Arts – 60 years after Castro's Revolution at the AAWR on November 18 at 1 PM
When:  Saturday            November 18th 2017                       1:00 PM
Where:  AAWR 1834 East  123rd Street  Cleveland OH 44106
Cuba defies conventional thinking: with half the land and people of the whole Caribbean, it seems more of a continent than an island. At the crossroads of the Western hemisphere for over 500 years, 20th century Cuba became a country where the clocks stopped for many decades. Its recent troubled history presents a story of brutal oppression and deprivation, but which is at the same time intriguing and fascinating.
From the hot music clubs to Che Guevara murals, sensuality and socialism rub shoulders in Cuba's great cities; and the newly-allowed art galleries display cutting-edge paintings and sculptures that might make New York or Santa Fe envious.  Dilapidated mansions neglected for decades stand side-by-side with beautiful newly renovated colonial, art nouveau and art deco buildings.
Take a journey with internationally published art and travel writer Irene Shaland to rediscover this island against the background of its 500 plus year history.
Travel from Santiago to Havana, from Cienfuegos to Trinidad – to learn how Cuba is finding its way back to the future.
Presented in conjunction with the AAWR exhibit of Augusto C. Bordelois.
 AAWR 1834 East  123rd Street  Cleveland OH 44106